Marta Covolan, who is graduating in November, presented the results of her dissertation on Instagram marketing to current Msc Events Management and MSc Events Marketing students, as part of the Events Principle and Practice (EPP) unit. Marta was supervised by Miguel Dr Miguel Moital, who invited Marta to contribute to the Events Principle and Practice (EPP) unit he co-teaches. Marta achieved a distinction in both her dissertation and her degree.
Marta's researc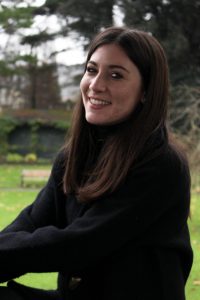 h focused on examining the brand elements embedded within social media influencers' (SMI) Instagram posts when attending (fashion) marketing events. The research identified six main brand elements encompassing 24 sub-elements, which were named in relation to the way SMIs communicate brands within marketing event attendance in a fashion context:
Types of brand portrayal: brand representative, brand product (worn brand product and brand product display), brand runway, brand invitation and brand creative piece
Types of brand role: central and peripheral role
Types of brand communication: latent, visible and subtle
Types of brand qualifiers: beautiful, dreamy and exciting
Types of context of brand use: at work, downtime and travelling
Types of brand quotation: brand allusion, brand tag, brand hashtag and brand mention
Referring to the opportunity, Marta commented "I'm glad Miguel asked me to share my dissertation to the MSc Events Marketing and Management students of this year. Preparing the Power Point and presenting it via Skype constituted an additional challenge to the dissertation drafting. Students demonstrated attention during my presentation and I'm happy I confronted myself a little bit more. Still don't believe last year I was sitting with them and now I managed to give them a little talk about my study!"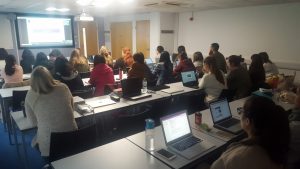 In the first part of the two hour EPP session, Miguel presented the research of Giulia Calcagno, a BA (Hons) Events Management alumni, on the triggers of engagement with Event Instagram pictures. Miguel and Giulia have co-authored a conference presentation on the topic, presented at the ATLAS Americas conference in Brasil in 2017.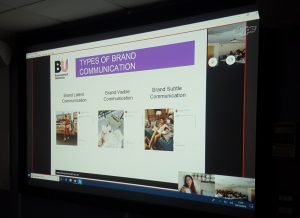 Embedding alumni contributions into teaching, notably the research they carried out while at BU, is an excellent way of co-create a positive learning experience and deliver fusion. Students commented they found the presentation interesting due to the engaging presentations, the innovativeness of the topic and the relevance of Instagram marketing.
The Department of Events & Leisure developed a pioneering Masters in Events Marketing earlier in the decade, to address the needs of organisations who want specialist knowledge on how to use events for marketing purposes. Together with the well established MSc Events Management, every year the Department attracts around 40 Master students from more than 15 countries.