Addressing the health of migrant workers, the Department of Health (DOH), International Organization for Migration (IOM), Commission on Filipino Overseas and Philippine Migration Health Network (PMHN) recently organised the 2nd National Symposium on Migration Health Research in Manila, Philippines. The theme "Achieving Universal Health Care for Overseas Filipinos Through Evidence-Informed Policy and Practice," aims to identify gaps and propose future directions of migration research in the Philip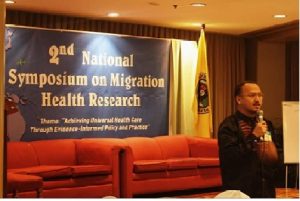 pines.
Dr Erwin Martinez Faller, a visiting fellow of Bournemouth University and a MHADRI (Migration Health and Development Research Initiative) member was invited to share research outputs on Aches and Pains' of Filipino Migrant Workers in Malaysia: A Profile of Work-Related Musculoskeletal Disorders, as one of the research work mainstreaming health in migration. A high prevalence of musculo-skeletal disorder (MSD) in the shoulder and lower back has been reported which is mainly due to physical and postural demands of their occupation on Filipino migrant workers in Malaysia [1]. Household workers are suffering more on hip/thigh pain due to repetitive manual tasks. Implementation of ergonomics policy, education on posture and lifting techniques and physical function need to be addressed [1]. Moreover, Dr Erwin also discussed the challenges of migrant workers in accessing healthcare in Malaysia [2] and compared with health conditions of migrant workers from Nepal [2-3], Bangladesh, Indonesia, and other countries [4].
The symposium also discussed the Philippine Migrant Health Research Agenda Plan for 2016-2022 towards achieving Universal Health Care for Overseas Filipino through evidence-informed policy and practice. The main themes focused on 1) establishing baseline Migration Health Information, 2) ensuring access of Overseas Filipinos to Migration Health Services, and 3) evaluating migration health policies, programs and services.
BU researchers Prof Edwin van Teijlingen, Dr Pramod Regmi, and Dr Nirmal Aryal are working closely with Dr Faller and other collaborators in Malaysia and Nepal on migration health related research.
References
Labao HC, Faller EM and Bacayo MFD.'Aches and Pains' of Filipino Migrant Workers in Malaysia: A Profile of Work-Related Muscuskeletal Disorders. Annals of Global Health. 2018; 84(3), pp.474-480. doi:10.29024/ aogh.2331 .
Pocock,NS.,Suphanchaimat,R.,Chan,CK.,Faller,EM.,Harrigan,N.,Pillai,V.,Wickramage,K.Reflections on migrant and refugee health in Malaysia and the ASEAN Region. BMC Proceedings 2018,12(Suppl 4);4. doi: 10.1186/s12919-018-0100-6
Aryal N, Regmi PR, Faller EM, van Teijlingen E, Khoon CC, Pereira A, Simkhada P. Sudden cardiac death and kidney health related problems among Nepali migrant workers in Malaysia. Nepal J Epidemiol. 2019; 9(3); 788-791.
doi: 10.3126/nje.v9i3.25805.
Chan,FM.,Lau,L.X.,Faller,EM.,Pereira,AA.(2016). Household Income, Food insecurity and Nutritional status of Migrant workers in Klang Valley,Malaysia. 6th Medical and Health Sciences Symposium.