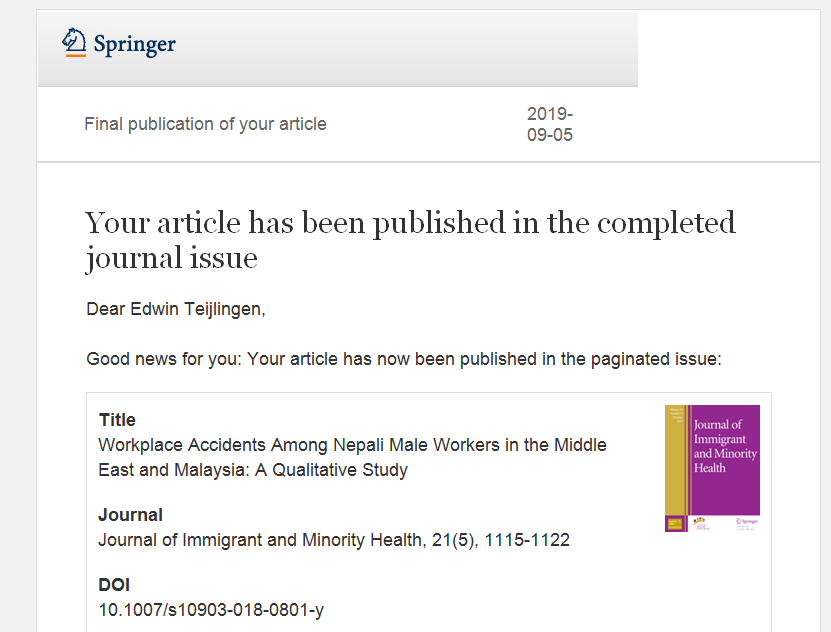 Yesterday the Journal of Immigrant and Minority Health published the final version of Dr. Pratik Adhikary's paper 'Workplace Accidents Among Nepali Male Workers in the Middle East and Malaysia: A Qualitative Study' [1].  This is the fourth paper originating from Pratik's Ph.D. research conducted in the Faculty of Health & Social Sciences, the first three papers appeared in the period 2011-2018 [2-4].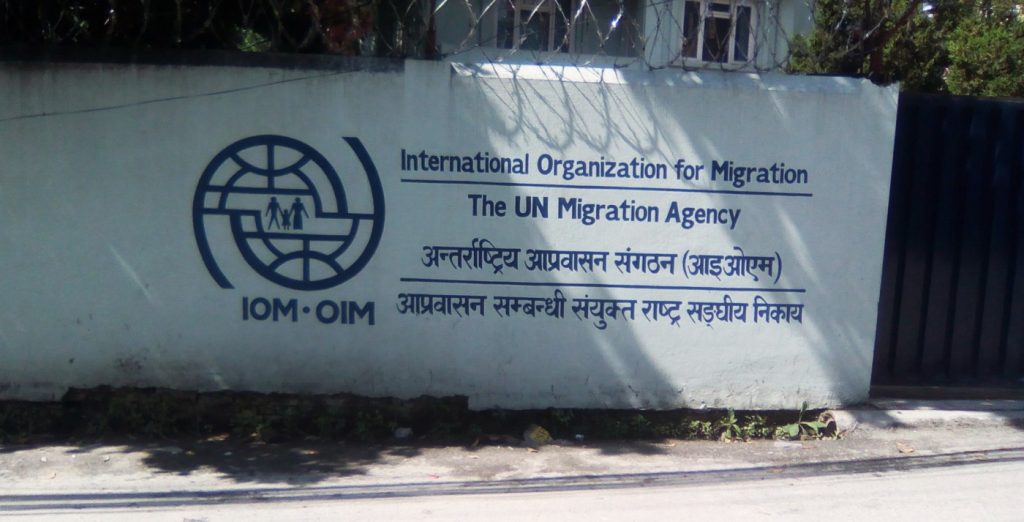 The paper highlights that many Nepali men work in the Middle East and Malaysia and media reports and anecdotal evidence suggests they are at a high risk of workplace-related accidents and injuries for male Nepali workers.   Pratik's Ph.D. study used face-to-face interviews to explore the personal experiences of twenty male Nepali migrants of unintentional injuries at their place of work.  His study found that almost half of study participants experienced work-related accident abroad. The Participants suggested that the reasons behind this are not only health and safety at work but also poor communication, taking risks by workers themselves, and perceived work pressure. Some participants experienced serious incidents causing life-long disability, extreme and harrowing accounts of injury but received no support from their employer or host countries.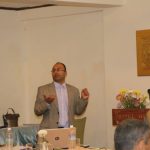 The paper concludes that Nepali migrant workers are at a high risk of occupational injuries owing to a number of interrelated factors poor health and safety at work, pressure of work, risk taking practices, language barriers, and their general work environment. Both the Government of Nepal and host countries need to be better policing   existing policies; introduce better legislation where necessary; ensure universal health (insurance) coverage for labour migrants; and improve preventive measures to minimize the number and severity of accidents and injuries among migrant workers.
References:
Adhikary P, van Teijlingen E., Keen S. (2019) Workplace accidents among Nepali male workers in the Middle East and Malaysia: A qualitative study, Journal of Immigrant & Minority Health 21(5): 1115–1122. https://link.springer.com/article/10.1007/s10903-018-0801-y
Adhikary P., Keen S., van Teijlingen E (2011) Health Issues among Nepalese migrant workers in Middle East. Health Science Journal 5: 169-75. www.hsj.gr/volume5/issue3/532.pdf
Adhikary, P, Sheppard, Z., Keen, S., van Teijlingen, E. (2017) Risky work: accidents among Nepalese migrant workers in Malaysia, Qatar & Saudi Arabia, Health Prospect 16(2): 3-10.
Adhikary P, Sheppard, Z., Keen S., van Teijlingen E. (2018) Health and well-being of Nepalese migrant workers abroad, International Journal of Migration, Health & Social Care 14(1): 96-105.  https://doi.org/10.1108/IJMHSC-12-2015-0052