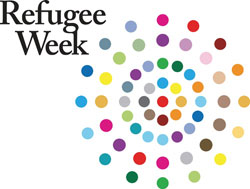 This week it is  Refugee Week and here in the Faculty of Media and Communication this is significant as we have just started our new British Academy project 'Understanding LGBTQ Refugees' and Asylum Seekers' Support Needs through Listening to Autobiographical Storytelling'.  Although I have recently written about Queer Youth Refugees in Documentary Media and Ieuan and I have a forthcoming article on The Undocuqueer Movement in the journal Interactions: Studies in Communication & Culture this project offers a great opportunity to asses support needs and influence policy, with an aim to develop links between diverse help providers across the UK.
The project has a duration of 15 months with a symposium taking place in a year's time, yet already through early conversations with NGO help service participants we are beginning to learn about the needs of LGBTQ refugees. For example, this morning I was in conversation with  Mark Lewis of Hoops and Loops in Cardiff. If you look at this interview on BBC Wales which includes commentary from Jo Stevens MP its clear that there is much to be done.
In the era of Covid-19, when many of us are feeling isolated, psychologically compromised, and wondering whats happening next, its clear that this is equally impacting on asylum seekers and refugees, many of whom have little support, or live in conditions that could hardly be considered as welcoming.
Christopher Pullen (Department of Media Production) and Ieuan Franklin (Department of Humanities and Law).