'Non c'è casa senza famiglia' – or 'a house is not a home without family', as the Italians would say. Italy is a country where food, family and music are deeply ingrained in the culture, so I was very curious to see how unaccompanied refugee children are coping in this country. The last leg of the field work for the 'Media literacy for unaccompanied refugee youth' took me to Milan. After carrying out interviews in the Netherlands, and getting to know the children's situation in Sweden, I've arrived to Italy. Right after the latest statistics came out, highlighting that over 18,000 unaccompanied asylum-seekers were present in shelters across the country. With a new government moving to cut off the flow of migrants from the African continent, the question whether unaccompanied minors will find a new home in Italy without their families is far from being answered.
In the two weeks I've spent there, I got to know some of the organisations and volunteers whom were a great example of the legendary Italian friendliness and hospitality. CivicoZero, a project of Save the Children Italy, offers a centre where young unaccompanied asylum-seekers can learn Italian, IT, play sports together or just hang out on one of the coaches and find a safe haven. During the interviews I carried out at CivicoZero, I got to know young people from countries close and far away (Albania, Egypt, Morocco or Nigeria). Although speaking different languages and coming from vastly different cultures, one thing they had in common with the Italians: the love of football – and consequently, the Score Match app!
Another initiative that I found exemplary was the Penny Wirton school: a place run entirely by volunteers where migrants can learn Italian for free. These schools have opened across the country, and they offer a possibility for those new to the country to practice the language with a local (one to one tuition), learn about the customs and get to know the culture. In Milan, most of the volunteers were seniors, and every week they returned to a local parish to meet the young asylum-seekers. It was impressive to see these seniors: they give a helping hand where it is the most needed. In an aging Europe, this initiative could be a good example for many seniors that would like to offer their skills and time.
Despite the political rhetoric, I've seen many people eager to offer some kind of support to those in need. For instance, the number of 'volunteer guardians' is on the rise, as more people sign up to become guardians of unaccompanied refugee children, without receiving any compensation. Other organisations offer pizza-making classes to migrants in an effort to equip them with skills that could ease their integration.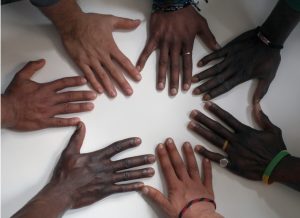 And indeed, help is much needed, since even in terms of the use of social media and technology, the children showed very different levels of knowledge and understanding. From kids who were seasoned online gamers, to children whom didn't own a phone at all, it seems that unaccompanied young refugees need very specific educational interventions.
The next step of the 'Media literacy for unaccompanied refugee youth' will be to create these interventions with the help of refugee kids themselves.
I am very thankful to Laura from the Penny Wirton school and to Valentina and her team at CivicoZero Milan.
Photo credit: Save the Children, Score! Match