This is part of our series on using online environments and platforms in engaging public audiences with research. You can read more about how BU has adapted to online engagement over the past year in a previous post.
---
Using online platforms and methods to engage public groups with research has its pros and cons, challenges and opportunities, as we examined previously. As with all public engagement with research, the first two things you should consider are what you are trying to achieve with your engagement activity, and who the public audience/groups are that you are looking to engage with. Once you have those things clear, you can begin to think about whether engaging online is the right choice and, if so, how best to do so.
Thinking about public engagement in this way can be summarised as People, Purpose and Process, a framework popularised by the National Co-ordinating Centre for Public Engagement (NCCPE).
Right now, online engagement may seem like the only option, but it's worth considering other methods that enable people to engage with research and each other, in person, whilst sticking to restrictions. David Owen (NCCPE associate) termed these activities 'hyperlocal engagement'.
However, there are a number of good reasons why you might choose to engage online, even when all other options become available. It can be accessible in a different way to in-person events, cheaper and more easily scalable, allowing you to reach large but specific audiences.
In this post we'll share resources and opportunities to support you at BU.
Useful reading
▸ More resources

| | |
| --- | --- |
| Hyperlocal engagement during the time of lockdown | What does public engagement look like during a time of lockdown and social distancing? Does it all have to take place online? David Owen reflects on how public engagement is being re-imagined and invites you to share your ideas. |
| Communicating research during Covid-19 | Paul Manners (Director, National Coordinating Centre for Public Engagement) breaks down best practice in engaging the public with research during the pandemic. |
| CPExplores: Should we be taking our engagement projects online? | QMUL's Centre for Public Engagement sets out to answer some of the most pressing engagement questions in relation to COVID-19 and engagement. |
| Learning from our virtual co-creation: accessibility and adaptability | Members of the Centre for Co-Production explore the importance of accessibility and adaptability. |
| Engagement in a time of social distancing | What does engagement mean in a time of social distancing? This blog creates a list of advice and tips to help researchers navigate their projects and be the support their partners need. |
| Digital Tools for Participation: Where to Start? | This blog post aims to give you a few pointers to help get you started. It's based on a combination of experience, discussion with other practitioners and knowledge of good engagement principles and practice. |
| University of Exeter Online Engagement Resources | A note of discussions at a UoE webinar that focused on online engagement. |
| Guidance for Online Events | University of Exeter Communications Team share their advice on organising virtual events. Includes a risk assessment template, checklist and joining instructions. |
| Knowledge Sharing and Exchange in a Pandemic | The Cultural Capital Exchange has developed a crowd-sourced document as a rapid-fire means of creating a space for researchers and for the knowledge exchange community to share stories and examples of good and innovative practices at this time of unprecedented challenge as a result of Covid-19. |
| Coronavirus Tech Handbook | An open Google Doc with links to research-related resources. Includes sections on collaborations, remote decision making and creative tools. |
| Making Connections During the Coronavirus Pandemic | A guide from the Elizabeth Blackwell Institute at the University of Bristol. Covers the basics of engagement and some practical tips for engagement during the pandemic. |
| A map of resources for co-producing research in health and social care | A guide for researchers, professionals and public contributors to navigate the different tools and guidance that can help people produce research together. Features a section on co-production during Covid-19. |
| Online Engagement: A guide to creating and running virtual meetings and events | A guide on engaging publics using digital platforms. |
| Top tips for carrying out PPI activities during COVID-19 | Top tips for researchers who are in the process of applying for grants, to consider how to ensure they can continue to collaborate with public representatives in a meaningful way. |
| Shared National Institute for Health Research (NIHR) commitments to public involvement, participation and engagement during the COVID-19 pandemic | The NIHR Public Involvement Senior Leadership Team has agreed new commitments for patient and public involvement, engagement and participation (PIE) during the COVID-19 pandemic. |
| Guide to Online Engagement | The University of Bath's Public Engagement with Research Unit shares their top tips on moving your engagement online. |
| Supporting Impact through Online Public Engagement | The University of Bath's Public Engagement with Research Unit shares a recording of an online webinar sharing ways in which to move your engagement online. |
| Online Communities and Communication Tools | A series of guidebooks for anyone wishing to use Slack as a collaborative workspace. |
| Carry on co-producing: handy hints and tips to help you out | University College London shares tips and advice for virtual co-production, listing handbooks they have found useful, some training courses to try out and information on accessibility. |
| 25 useful free online tools for workshop planning and meeting facilitation | Are you facilitating workshops, meetings or training sessions regularly? There are plenty of online tools to make your life easier when you need to prepare for meeting facilitation and to conduct workshops. |
| Google Jamboard and MURAL | Two online-based collaborative working platforms. Jamboard is free, MURAL is a subscription service. |
| Sidewalk Science | Danna Staaf shares their experiences of engaging passing publics in their chalk-based engagement. |
| Writing Back 2 and 3 | The project tackles loneliness and isolation using a pen pal exchange between university students in Leeds and older residents in Yorkshire. |
| Museum Lates | The Natural History Museum has transplanted its Museum Lates series onto a digital platform. |
| Southampton Science and Engineering Festival | The University of Southampton's Science and Engineering Festival moved its annual festival online for 2020. Follow their webpage to see the programme and examples of digital engagement. |

Thank you to University of Exeter for the original list (doc)
Training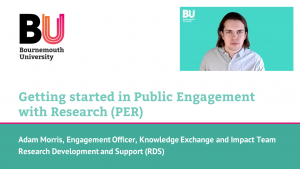 Look out on the Research Blog and intranet for news about upcoming training sessions, in the past year we have run sessions from the NCCPE on 'Meaningful online engagement', 'High Quality Public Engagement' and 'Evaluation: developing your approach.
Learning from others
The Public Engagement with Research Network welcomes all BU staff to learn, share best practice, network and collaborate. We have a Team where you can keep up with opportunities, resources and news, as well as regular meetings.
Advice
If you'd like help on developing your ideas for public engagement, contact BU Engagement Officer Adam Morris.
Promoting your activities
If you've organised a public engagement activity, online or otherwise, we can help you promote it through our regular newsletter.