First year Events Management students took on the challenge to create innovative fundraising event ideas for three charities: Great Ormond Street Hospital (GOSH) Children's Charity, Autism Hampshire (AH) and Forest Holme Hospice (FHH), as part of their Creativity & Innovation unit.
Charities were invited to act as clients, with Events Management students having to develop the business case for an innovative online fundraising event. A different feature was the involvement of BA Events Management (BAEM) / BA Events & Leisure Marketing (BAELM) alumni as clients. After being on the pitching side during their degree, alumni working for these charities were invited to become clients.
Back in February, the three charities introduced the organisation to the respective seminar group. During this session, the activity of the charity, the sorts of online and offline fundraising events that the charity organises, and the overall strategy and priorities of the organisation going forward (including fundraising) were presented, in order to give the necessary background to the new event development teams.
After working on their business proposals over the semester with the support of the unit tutor Dr. Miguel Moital, students have recently pitched their ideas to representatives of the charities. After 15 minutes making the business case, groups were asked questions by charity representatives and the tutor.
Events Managers Freya Hill (BAEM, class of 2016) and Zara Barton represented GOSH Children's Charity. Events pitched to GOSH included a Black-Tie Cocktail Event, 'Aspire to be' Virtual dinner party, GOSH: Day at school and a Spring Gala Lunch. Commenting on the experience, Freya said "I would like to thank the opportunity to be on the other side of these pitches. Thanks to the students for all the research they have done. There are definitely ideas we will be taking forward, and these presentations have given us food for thought about how we can continue to build on how successful virtual events calendar".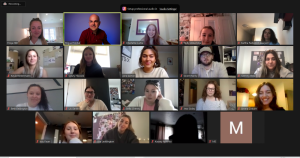 Isabelle Ward (BAELM, class of 2016) is Business Support Officer at Autism Hampshire. Events pitched to AH included: a Baking competition, Themed Zumba classes, a Movie Night Bingo and a virtual cocktail making event. At the end of the presentations, Isabelle said "thank you for all the ideas, it was great to hear them. It's nice to be on the other side because I was doing the same a few years ago!".
Forest Holme Hospice was represented by various members of staff: Anne Currie (Chief Executive), Paul Tucker (Fundraising & Communications Manager), Lewis Hay (Fundraising and Communications Manager), and Kirsty Perks and Charlie James (Fundraisers). Events pitched to FHH included: Virtual Scavenger Hunt, a game show style event 'Are you smarter than a child', "A challenge for life" auction, and Cocktail Masterclass "Cheers to Being Healthy". The alumni contact point was Hannah (Parsons) O'Hare (Development Manager) who wan not able to be involved due to being on maternity leave. Commenting on the experience, Lewis Hay said that Forest Holme Hospice representatives "were all really impressed with what student came up with and with their presentation skills. I appreciate that it is not easy, especially virtually but I thought they all did a great job."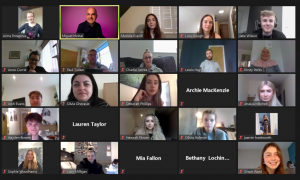 Dr. Miguel Moital, the unit tutor, said: "Having resumed teaching this unit after a 6 year break, I was excited about about the opportunity to help students to develop their business development and product innovation skills. This year we had to adapt and instead of using local hospitality and tourism businesses, students developed a new virtual event concept for well-known local and national charities. This brought added challenges because (fundraising) virtual events are pretty much in their infancy. Student teams worked hard throughout the semester and I was pleased to see some very strong business cases which embedded high levels of creativity".
If you're interested in studying Events Management at Bournemouth University, take a look at the course page or come along to one of our upcoming undergraduate open days.