Celebrating BU's impact case studies for REF 2021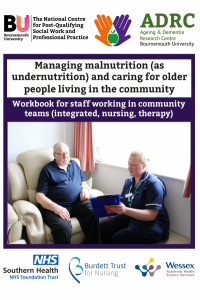 New tools to identify older people at risk of malnutrition and improve their nutritional care
Research areas: Nutrition, Food Science, Health & Social Care
Staff conducting research: Professor Jane Murphy, Dr Joanne Holmes, Cindy Brooks, Dr Nirmal Aryal
Background: 
Malnutrition affects 1,300,000 (or 1 in 10) older adults living in the community, with far-reaching health consequences, an increased need for healthcare and higher rates of mortality. Research undertaken by Professor Murphy demonstrated that one of the key priorities for research into malnutrition and nutrition screening was the need for novel practical approaches to screening and tools that would allow for early intervention to prevent malnutrition. It also identified that limited training and a high turnover of staff in community teams created significant challenges in using the existing leading tool, the Malnutrition Universal Screening Tool (MUST).
As well as identifying new ways of screening, Professor Murphy developed new interventions to reduce the risk of malnutrition in vulnerable groups, such as people with dementia (PwD), who are particularly at risk due to reduced appetite, difficulties associated with eating, and swallowing problems. A two-year, BU-led research project deployed innovative wearable technology for PwD in care homes to measure levels of physical activity, sleep patterns and energy expenditure, combined with information about their energy intake and nutritional status. It found that needs varied enormously between individuals, demonstrating the importance of person-centred care when considering how to support PwD to eat and drink well.
The impact:
BU researchers worked with the Patients Association to help test and refine the latter's Nutrition Checklist, which has since been downloaded more than  2,000 times.  Professor Murphy wrote guidelines for using the checklist during the Covid-19 pandemic, and councils and NHS Trusts across the UK have been using it to screen their vulnerable populations. As the checklist was designed to be used by patients and carers, as well as professionals, it became a vital tool for diagnosing malnutrition in the community during this period.
Eat Well Age Well, a national project tackling malnutrition in older people living at home in Scotland also incorporated the checklist into its training and guidelines. More than 500 staff and volunteers were trained and nearly 700 older people screened by December 2020. Case studies included a 91-year-old and a 74-year-old who both gained weight after being given dietary advice after screening.
Key aspects of BU research were embedded in the National Dementia Training Standards Framework (2018), directly informing essential knowledge and skills on nutrition and hydration across nine of the 14 subjects for food and nutrition.
Professor's Murphy's research led to the development of a training toolkit to deliver person-centred nutritional care for PwD, which has been incorporated into guidance on websites including Dementia UK. Over 1,700 known recipients of the downloaded resources (including nurses and allied health professionals, hospital and care home staff from the UK and overseas) have reported benefits and action to reconfigure nutritional care.
Building on the success of the toolkit for the care workforce, 4,000 hard copies of a guide for family carers of PwD were distributed nationally. A survey of carers who used the guide found positive changes to PwD's appetite and fluid intake, with feedback demonstrating that carers have been empowered to make changes to support their relatives.
Reducing costs and improving patient outcomes through Enhanced Recovery After Surgery approaches in orthopaedics
Research areas: Orthopaedics, Physiotherapy
Staff conducting research: Professor Robert Middleton, Associate Professor Tom Wainwright, Louise Burgess, Tikki Immins
Background:
In 2010, Professor Middleton and Associate Professor Wainwright published the results of the first UK study to implement Enhanced Recovery After Surgery (ERAS) within orthopaedics. The study followed 2,391 consecutive hip and knee joint replacement patients at the Royal Bournemouth and Christchurch Hospital, where they found high levels of staff and patient satisfaction, along with good clinical outcomes, following the implementation of ERAS. The average length of stay (LOS) decreased from 7.8 days to 4.1 days and there was no increase in the rate of complications or readmissions. Wainwright and Middleton presented the first data to assess ERAS in much older people and found patients aged 85 years+ went home four days earlier after hip replacement compared to case-matched patients elsewhere in the UK.
The BU researchers recommended the implementation of ERAS within orthopaedics at other hospitals, stating that major economic and capacity savings could be realised at the same time as improving key aspects of patient care. They conducted the first systematic review examining patient experience of ERAS in hip and knee replacements and the research confirmed that patient satisfaction was high and not adversely affected by ERAS.
They have also sought to optimise elements of the pathway known to directly affect patient experience, such as pre-operative education. BU research was the first to demonstrate that for patients this is most important, and showed that those undergoing knee replacement, who were considered at high risk of an extended LOS, and who attended an education class prior to surgery, stayed, on average, 2.58 days less in hospital
In 2015, BU established the Orthopaedic Research Institute to advance research in orthopaedic surgery: it has since expanded to include advocating ERAS for fractured neck of femur, ankle replacement surgery, shoulder replacement surgery and the first ever paper on ERAS for major spine surgery.
The impact:
Following a series of education sessions conducted by Middleton and Wainwright in New Zealand, ERAS principles were implemented in 18 of the country's participating district health boards for more than 11,000 people having elective hip and knee replacements and acute patients with fractured neck of femur, or broken hip – a potentially life-threatening injury, especially in older people. The results were significant:
average LOS fell from 4.63 to 4.05 days for hip replacement surgery and from 5.00 to 4.29 days for knee-replacement surgery, resulting in a nominal saving of NZ$ 1.8 million
the number of blood transfusions fell from 13.9% to 9.2% for hip replacements, from 17.8% to 5.5% for knee replacements, and 31.9% to 27.5% for fractured neck of femur, resulting in a nominal saving of NZ$516,000.
Wainwright has worked with the Scottish Government to implement a national programme to improve standards of care for orthopaedic joint arthroplasty patients across all 22 units in Scotland. Data collected from the Musculoskeletal Audit on behalf of the Scottish Government between September – December 2013 showed:
an increase from 21% (2010) to 92% (2013) of hip and knee arthroplasty patients benefitting from ERAS and
a decrease in LOS from 5.6 days (2010) to 4.8 days (2013).
A survey last year of attendees of the education sessions in New Zealand noted a range of benefits for patients as a result of implementing ERAS. Respondents reported shorter hospital stays, fewer complications and positive feedback from patients.
Next post: the effects of terrorism on tourism & reading on screen.