A series of posts featuring BU's impact case studies for REF 2021. (These are edited versions of the final submissions – the full impact case studies will be published online in 2022.)
Improving the lives of sex workers in Brazil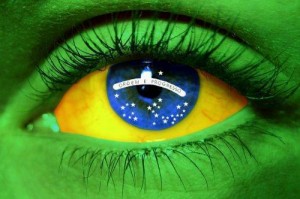 Research area/s: Physical culture, mediated spectacles
Staff conducting research: Professor Michael Silk, Dr Amanda De Lisio
Background: Media speculation often points to heightened demand for sexual services around sporting mega events (SMEs), such as the Olympics. These reports tend to be used to justify policing and rationalise displacing sex work from the public spaces. Professor Silk had argued that SMEs are highly mediated commodity spectacles, during which governments seek to erase and/or hide from view those who are antithetical to market 'logics'. However, there was a dearth of relevant data on the sexual landscapes associated with the Olympics or on the impact of large-scale sporting events on vulnerable populations of sex workers.
With funding from the Economic and Social Research Council (ESRC), Professor Silk and academic collaborators from Rio de Janeiro, Toronto and Kings College London undertook the first ever funded academic study that looked at the impact of the Olympics on sex workers. The project was centred on Rio de Janeiro during the 2016 Olympics and carried out with two Rio-based partners: the Observatorio Da Prostituicao (ODP), who had been collecting data on sex work in Rio for more than 10 years, and Davida, an NGO that supports sex workers in Brazil. Ethnographic data was collected from more than 100 sex workers, while interviews took place with key stakeholders such as clients, sex workers, venue managers, security personnel, police and local support groups. Observational data was collected from sex-related businesses and – in conjunction with the sex workers – field diaries and audio-visual data were recorded during and after the 2016 Olympics.
The project found that, within the Brazilian context:
Public discourse was once again focused on anti-trafficking strategies, which conflated forced migration and sexual exploitation with adult, consensual sex work.
Sex workers were forcibly evicted and displaced, with women unable to access justice without first asserting themselves as victims of sexual exploitation and sex trafficking – although they refused to lie about their consensual involvement in adult sex work.
Labour rights were denied, due to the conflation of sex work with sex trafficking and sexual exploitation.
The expected boom in 'sex tourism' did not materialise.
There was a heightened security presence in the street.
The final report made several key recommendations, including:
Stopping the conflation of prostitution with trafficking and sexual exploitation in law, public policies and popular discourse.
Creating opportunities for sex workers to add to the SME narrative.
Developing strategies to recognise and act against state-sanctioned violence faced by sexual minorities, and to guarantee social and spatial justice for those marginalised in the development process.
The impact:
Displacing sex workers during SMEs can have wide-reaching consequences for their safety, particularly in Brazil, where sex work is a legal profession.  By providing an evidence base on the spatial regulation of informal sex economies during SMEs, this project elevated the voice of sex workers in Brazil and shaped policy.
Changing policy
The research informed a submission by Davida to the United Nations Human Rights Council in October 2016, which documented human rights violations against sex workers in Brazil during the staging of SMEs. The report highlighted the eviction of approximately 200 women from a sex venue in 2014, with one evicted woman providing data on the eviction, denial of access to justice and the need for empirical evidence in the creation and execution of policies and strategies surrounding sex work. As a result of the report, she was invited to attend the EU Human Rights Defenders First Annual Meeting in November 2016. Subsequently, the UN referenced the Davida report in its Universal Periodic Review (Brazil) of February 2017 and adopted the following recommendations for the Brazilian government:
Improving the under-reporting of sexual violence/harrassment and developing policies to punish and prevent such actions.
Protecting human rights defenders and their families by implementing a national programme, policy and/or plan.
Combating police violence against women through training.
In September 2017, the Brazilian government enacted these recommendations into federal law, committing themselves to including human rights education in schools, creating domestic violence centres across the country, running an awareness campaign and setting up a hotline to report cases of violence against women.
Improving the lives and working conditions of sex workers
The project enabled Davida to reach a generation of women involved in sex work and the organisation has used the data to influence discourse around child labour exploitation, enhance ties with the Brazilian government's anti-trafficking committee and ensure less conflation of sex work with sexual exploitation/trafficking at government level.
The ESRC team collaborated with local partners to develop a sex worker-author exhibition, documenting everyday work and life during the Olympics.  Participants curated their own pages for the online exhibition: "It was such an innovative, motivating process… I feel full of hopes and expectations… I feel like I achieved something". As a result of the project, two of the trans sex worker photographers have developed careers in the arts.
Altering perceptions of sex work in the context of SMEs
The 'What You Don't See' virtual exhibition was curated into a physical exhibition, shown in London, New York and Bournemouth.  The exhibition was converted into a film narrated by sex workers (and project participants), which offered accounts of the banality of everyday life, oppression and prejudice, bringing to life the project findings and challenging sensationalist media accounts of sex work during SMEs.  The film debuted at the MoMA PS1 Sex Workers' Festival of Resistance in New York City, attended by 1,000 people, all of whom received a newsletter summarising the ESRC project. Davida stated that the project "broadened cultural and political sensibilities, which might have never expected to see the work of Brazilian women involved in sexual commerce celebrated in art galleries". Davida is currently incorporating the data into a project that is digitising sex work histories in Brazil for the State Archives of Rio de Janeiro.
Creating internationally recognised standards for crowdsourced systems
Research areas: Computing & Informatics, Software Engineering, Cyber Psychology
Staff conducting research: Dr Marios Angelopoulos, Professor Raian Ali, Professor Keith Phalp, Dr Jacqui Taylor

Background: Crowdsourcing can be defined as the practice of soliciting input from the general public. Crowdsourced systems incorporate devices provided by the public to opportunistically supplement their infrastructure. In crowdsourced systems, members of the general public permit the system to access and use the resources of their devices in return for an incentive; this can either be intrinsic (e.g. for social good) or extrinsic (e.g. receiving a service, a micropayment, etc).
However, the highly personal nature of devices like smartphones poses significant trust and privacy issues. Since crowdsourced systems are characterised by the network effect (their efficacy increases as the number of their users increases), such issues can hinder their adoption and development. In addition, the community has lacked a common understanding of which systems can be classified as crowdsourced systems and how such systems can be built following a trustworthy and transparent method.
BU researchers conducted a systematic survey of crowdsourcing research to extract and describe the taxonomy of features which characterise crowdsourcing. They analysed 652 papers, identifying 113 papers (72 academic and 41 from industry) as providing definitions on crowdsourcing. The paper detailed the methodology that was assumed in order to elicit the key features of the concept of crowdsourcing and the corresponding definition, which was adopted in the International Telecommunications Union (ITU-T) standard. The model identified the four fundamental constituents of crowdsourcing: the crowd, the crowdsourcer, the crowdsourced task, and the crowdsourcing platform, and formed the basis for the reference architecture for crowdsourced systems specified in the ITU-T standard.
BU and European collaborators also assessed how crowdsourcing methods and tools can be used in designing systems (particularly in requirements engineering) and how these can be applied in industrial contexts. Dr Angelopoulos' research underpinned the discussions within the ITU-T study group about implementation aspects of crowdsourced systems and corresponding use cases, and eventually helped shape the final text of the standard. These included architectural approaches for crowdsourced systems in a variety of applications, such as localised distributed computer infrastructure, crowd-enabled IoT systems and crowdsourced systems as enablers for citizen science.
The impact:
The International Telecommunications Union (ITU) is the United Nations' special agency for information and communication technologies, with global membership including 193 member states, as well as some 900 companies, universities, international and regional organisations, and 20,000 industry professionals. Its recommendations act as an international standard and common point of reference globally to enable members to develop policies at a local or national level.
The ITU accepted the definitions and reference architecture developed through BU research as the formal definitions for crowdsourced systems. Angelopoulos led the BU delegation for the recommendation throughout its lifetime, as part of ITU-T Study Group 20 (SG20), which develops recommendations in the field of Internet of Things (IoT) and smart cities and communities. The terms defined were accepted by the Standardisation Committee for the Vocabulary and form part of official ITU terminology, which acts as a reference point for the international community. The recommendation was formally ratified by the ITU in February 2019 during the SG20 meeting held in China
Defining processes and attributes, and producing a standardised framework for the ways in which such systems are developed, helps to increase their transparency and provides a guarantee with regards to privacy and cybersecurity issues. This, in turn, helps increase public trust towards crowdsourced systems and, consequently, promotes their use. By helping to provide this formal, standardised framework – accepted by the global community through the ITU – BU has delivered a foundation of common understanding that will facilitate the growth and further adoption of crowdsourced systems and reference architecture, as well as identifying and addressing relevant security, privacy and trust issues.