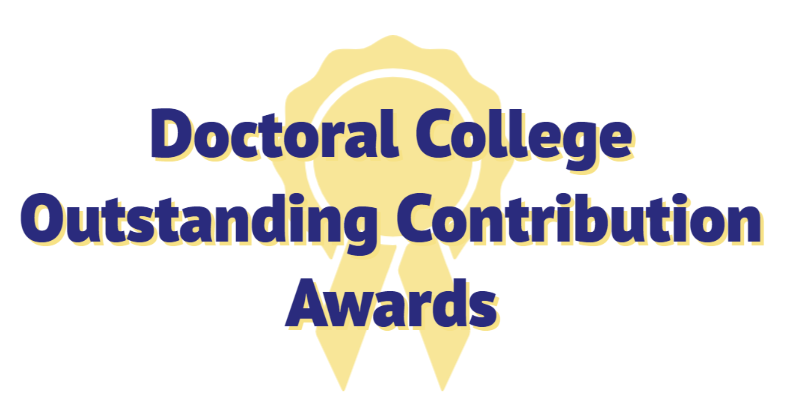 The Doctoral College team have been delighted with the nominations that have come in for our recently launched 'Doctoral College Outstanding Contribution Awards'. We wish to extend our congratulations to all recipients who have recently received their award certificate.
Since launching in October 2021 we have presented 34 awards! 
Here are some of the heartfelt nominations we have received so far:
"She is always ready to lend a listening ear and a helping hand. I think that I am really blessed to have her as a supervisor and she needs to be recognised for her hard work."
"She is dedicated to the PGR community, playing central role in maintaining a sense of cohort identity with the Faculty."
"For his unwavering support for PGRs progress, community and sense of belonging. Ensuring connectedness throughout Covid times and helping students transition back to face-to-face contact."
"He is undoubtedly an outstanding person to work with, to learn from, and to rely upon in time of need."
"She was our PGR Rep during the pandemic and worked so hard to pass concerns of the PGR community to administrators or the DDRPP to find a solution. She arranged coffee mornings and lunchtime-seminars for the PGRs to get together in an academic and social environment."
---
Why not take five minutes and nominate a PGR, academic or professional staff member for a Doctoral College Outstanding Contribution Award and say thanks and give recognition for their hard work?
These awards recognise the outstanding contributions to postgraduate research at BU by any PGR, academic or professional staff member. They can be nominated throughout the year by any member of the postgraduate research community to anyone that they feel is exceptional, has exceeded expectations, and has had a positive impact on the postgraduate research at BU.
Eligibility
You can nominate anyone involved in postgraduate research at Bournemouth University to receive an award certificate. There are no award criteria, as long as the submission falls within the guidelines, whoever you've selected will receive a Doctoral College Outstanding Contribution Award!
How to nominate
We've made it really easy for you to nominate someone for a Doctoral College Outstanding Contribution Award – it's just a short online nomination form!