The 13th Annual Postgraduate Research Conference, hosted by the Doctoral College.
Penny Wells (PhD, FMC) with this poster entitled: How people relate to environmental disaster in contemporary literature; an ecocritical approach.
Click the poster below to enlarge.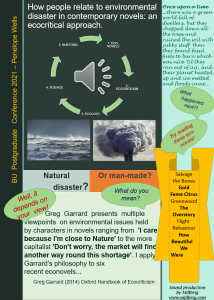 Taking six contemporary eco-novels containing scenarios of environmental disaster, this study examines how each is portrayed. The question of whether the disasters are natural or man-made is examined using Garrard's six philosophical positions of ecocriticism, and further discourse analysis from ecological and scientific perspectives. The extent to which the characters engage with their natural environment in terms of their cultural capital (Bourdieu) will also be looked at. As well as exploring the political rhetoric of each book, from the various stakeholders' perspectives, the study also incorporates a separate sociological research element which sets out to explore other ways in which authors may or may not express their concerns about our shared environment.
---
You can view the full poster exhibition and pre-recorded presentations on the conference webpage.
If this research has inspired you and you'd like to explore applying for a research degree please visit the postgraduate research web pages or contact the Doctoral College dedicated admissions team.