The 13th Annual Postgraduate Research Conference, hosted by the Doctoral College.
Joseph McMullen (PhD, FMC) with this poster entitled: Particulate matter: Regulating an invisible killer.
Click the poster below to enlarge.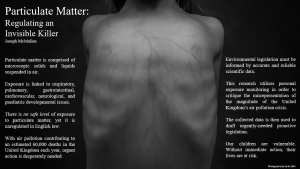 Research indicates that exposure to atmospheric pollutants diminishes immune responses and increases viral penetration and replication. Specifically, particulate matter – microscopic solids and liquids suspended in air – represents an unseen and unregulated threat to global human life and welfare. There is no evidence of a safe level of exposure, and particulate matter is linked to respiratory, pulmonary, gastrointestinal, cardiovascular, neurological, and paediatric developmental issues. In spite of this, domestic ambient particulate concentrations are unregulated. This work utilises particulate sampling in order to suggest the creation of a proactive regulatory framework informed by science and integrating post-hoc monitoring. Punitive action is suggested for non-compliance with the proposed legal obligations in addition to punitive measures beyond financial penalties.
---
You can view the full poster exhibition and pre-recorded presentations on the conference webpage.
If this research has inspired you and you'd like to explore applying for a research degree please visit the postgraduate research web pages or contact the Doctoral College dedicated admissions team.