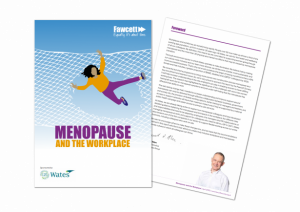 As the current UCU Equality Officer, I'd like to share some recent research (2022) on menopause and the workplace, which is presented by the Fawcett Society*. The research (see: https://www.fawcettsociety.org.uk/Handlers/Download.ashx?IDMF=9672cf45-5f13-4b69-8882-1e5e643ac8a6) follows on from the C4 documentary 'Davina McCall: Sex, Mind and the Menopause' commissioned by Finestripe Productions.
This televised popular cultural representation raised awareness of the menopause. Additionally, Finestripe commissioned Savanta ComRes to conduct a  survey of 4,014 UK women aged 45-55 who are currently or have previously experienced the perimenopause or the menopause. The Fawcett Society, who were involved in the research design, acknowledge their gratitude "to Channel 4 and to Finestripe for enabling us to use that data in this report. We are also grateful to The Wates Group (a construction company), without whose sponsorship this report could not have been produced."
Key findings from the research are as follows:
77% of women experience one or more symptoms they describe as 'very difficult'. 69% say they experience difficulties with anxiety or depression due to menopause, 84% experience trouble sleeping and 73% experience brain fog.
More women described difficulty sleeping and brain fog as being 'difficult' or 'very difficult' than hot flushes or night sweats (70%).
44% of women said their ability to work had been affected, comprising 18% of women who said that their symptoms currently affected their ability to do their jobs, and 26% in the past. 61% said that they had lost motivation at work due to their symptoms, and 52% said they had lost confidence.
One in ten women who have been employed during the menopause have left work due to menopause symptoms. Mapped on to the UK population that would represent an estimated 333,000 women leaving their jobs due to the menopause. 14% of women had reduced their hours at work, 14% had gone part-time, and 8% had not applied for promotion.
Disabled women are affected more by menopause symptoms. 22% said they had left a job due to menopause symptoms, compared to 9% of non-disabled women.
Severe symptoms are worse for working class women. 44% of women described three or more symptoms as 'very difficult', and women in a household where the main earner works in semi-skilled or unskilled manual work were more likely than those where they work in managerial roles to have difficulty with physical and psychological symptoms.
The taboo around menopause extends to sick notes. 26% of women who have been employed during the menopause had taken time off work due to their symptoms, but just 30% of them gave menopause as the main reason on their sick note. Working class women were even less likely to cite the real reason.
Employers are not taking action to support most menopausal women. There is consistent evidence that a mix of appropriate interventions by employers can support women: culture change, training, advice on menopause, adapting absence policies, flexible work, and environmental changes.But for each of these, eight out of ten women in our survey said their employer had not put them in place. When they do, women say that they are helpful.
Women are not approaching their GP surgery about the menopause. Just 55% of women said they had talked to someone at their practice, while 45% said they had not. Even among women with five or more severe symptoms, 29% had not spoken to anyone at their GP practice about menopause.
Women overall said their GPs appeared knowledgeable about menopause. 67% of menopausal women who did speak to their GP agreed that their healthcare professionals seemed well informed about the menopause.
At the end of October 2021, the UK Government issued a Press Release (see: https://www.gov.uk/government/news/more-support-for-women-experiencing-the-menopause) outlining action for a Menopause Taskforce to better support women experiencing the menopause. The Task force will be co-chaired by the Minister for Women's Health and Carolyn Harris MP and aims to address the role of education, training and workplace policies. The Civil Service will be involved in developing workplace menopause policy to ensure women can continue to work to their full potential.
At BU, we have Menopause Guidelines (see: https://staffintranet.bournemouth.ac.uk/workingatbu/healthsafetywellbeing/hsfire/menopause/) for members of staff and managers, which states that: "Research shows that the majority of women are unwilling to discuss menopause-related health problems with their line manager, nor ask for the support or adjustments that they may need"
One of the aims of the BU guidelines is to: "Foster an environment in which colleagues can openly and comfortably instigate conversations, or engage in discussions about menopause".
Hopefully, existing menopause and workplace research findings, accompanied by policy reform, will impact change in the workplace and make menopause easier to talk about and support.
The TUC also have an informative and useful menopause toolkit: https://www.tuc.org.uk/sites/default/files/Menopause%20toolkit%20Eng%20FINAL.pdf
*The Fawcett Society is a UK charity, established in 1866; campaigns for women's rights