This autumn saw BU host five events as part of the ESRC Festival of Social Science. The Festival is a nationwide celebration of the social sciences, with over 300 events held across the UK this year.
The Festival is designed to promote and increase awareness of social science and ESRC-funded research, enable social scientists to engage with non-academics and increase awareness of the contributions the social sciences make to the wellbeing and economy of UK society.
BU contributed to the Festival for the eleventh year in a row, holding a variety of events spanning research areas and faculties, which were held on campus, off campus and online.
---
Our festival events kicked off with 'Which one of us is human?', an interactive experience from Dr Maxine Gee and Dr Rachel Moseley set in a future where robots and humans looked identical, with two actors answering questions to help identify the 'robot' from the human.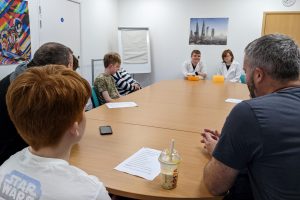 Visitors were very engaged with solving the puzzle, with families, couples and people attending alone all teaming up to debate which actor was the robot.
But there was a twist – Maxine and Rachel revealed in their debrief that each actor was carefully written to present with a different type of autism. They went on to explain some of the science behind what autism actually is and discussed with the surprised groups what this meant for their perceptions of 'humans' and 'robots'.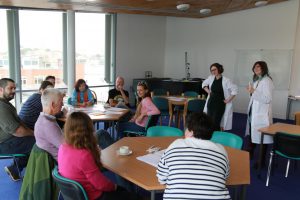 "Did not know much about autism and behaviour – it was interesting to know more and [it] opened my mind"
Feedback from attendee

"Excellent – could have chatted to the researchers for hours"
Feedback from attendee
---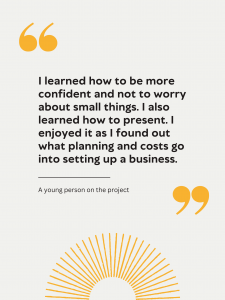 Next in our series of events was the multi-part exhibition 'Entrepreneurship for Young People' showcasing the success of the SPEED-You-UP project to develop entrepreneurial skills in young people, headed up by Dr Esther Anwuzia with help from BU and external collaborators.
Hosted in The Old Schoolhouse, a community space in Boscombe, the exhibition shared stories from young people and school staff who had experienced first-hand the benefits the project had brought them.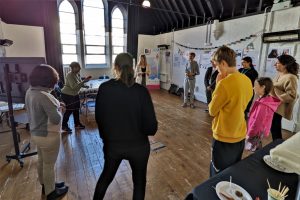 Day one of the exhibition provided a taster session of the SPEED-You-UP programme, welcoming a group of young people to look at topics such as entrepreneurship, the advantages of having a business, what skills you need to have in business and generating a business idea.
Although just a taster, the session went down well with its teenaged attendees, who praised the opportunity to develop teamwork skills.
Day two welcomed local stakeholders with a professional interest to discuss bringing the programme to Bournemouth.
To reach an even wider audience, the exhibition also ran online, where you can still visit and read about the project.
---
The next event asked: 'Are drones the future of delivery?'. Tucked in the corner of the Little Pickle Deli in Boscombe, a team led by PhD researcher Taalia Nadeem invited members of the University of the Third Age to play a new board game, helped along by coffee and cake.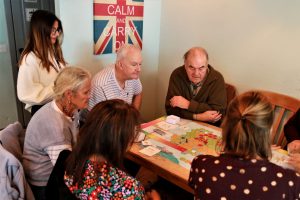 In this game, players must make decisions about how, where, when and why to use delivery drones in a representative Bournemouth of the near future. With lots of factors to consider in making decisions and myriad unexpected consequences, the game drew out nuanced discussion and observations from a group of people that, by their own admission, had not given much thought to the topic before.
"I think the event was very informative and I enjoyed the discussions element of the game which I found enjoyable and interesting"
Feedback from attendee

"Initially felt possibly a little negative about drones – see all the positives now!"
Feedback from attendee
These insights were valuable, as they were recorded and will contribute to research led by Taalia with collaborators Professor Janet Dickinson and Dr Angela Smith on the public perception of delivery drones.
---
Following this was another event focusing on a sometimes perplexing new technology. 'Demystifying NFTs: Understanding the law and technology' was an online event hosted by Professor Dinusha Mendis that provided an informed look at a topic usually surrounded by hype.
NFTs, or non-fungible tokens, have captured the public imagination over the past year, but much about them remains a mystery.
External guest Nikolaos Mantis from Museo Techniki guided us through the technological underpinnings, while Dinusha revealed the surprising and sometimes inconvenient truths about what 'owning' an NFT actually means.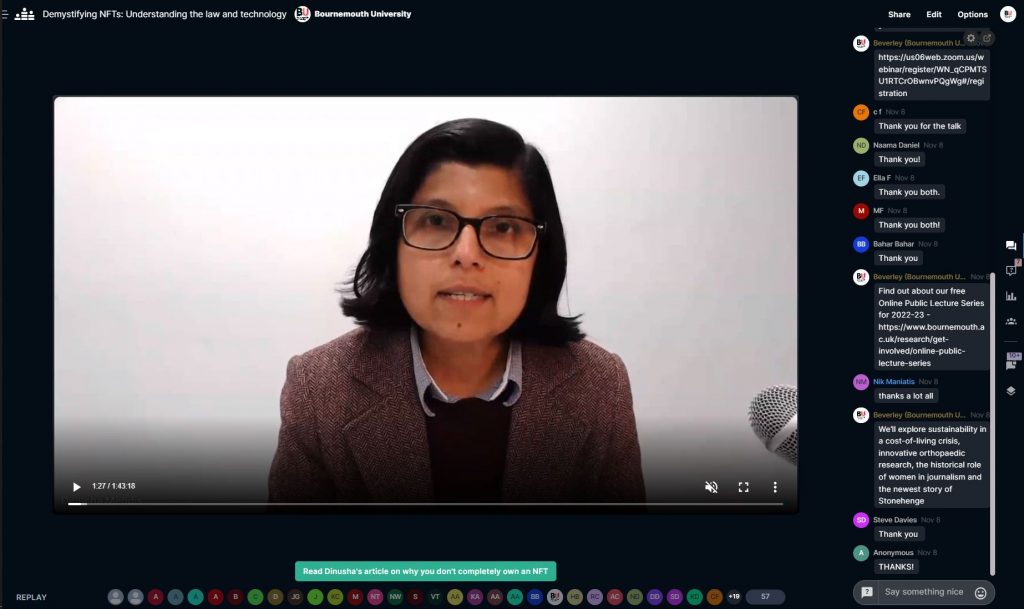 "Thank you – I hadn't considered the legal aspects of NFTs and found this an insightful perspective."
Feedback from attendee
This event welcomed a global audience from Europe and beyond, with guests from Thailand, Bangladesh, the USA, Mexico, Azerbaijan and Dijibouti, amongst other places.
To enrich this event further, Dinusha took an informative zine she had written all about NFTs, and 'tokenised' it as an NFT itself. A short quiz that was ran at the end of the event provided an opportunity for three lucky attendees to win a unique NFT to keep as a very appropriate souvenir.
If you're left feeling curious about NFTs, you can catch up on this online event, including all the chat, polls and questions.
---
Rounding off our events this year was 'Medical monsters: reducing medical anxiety through play and gamification'.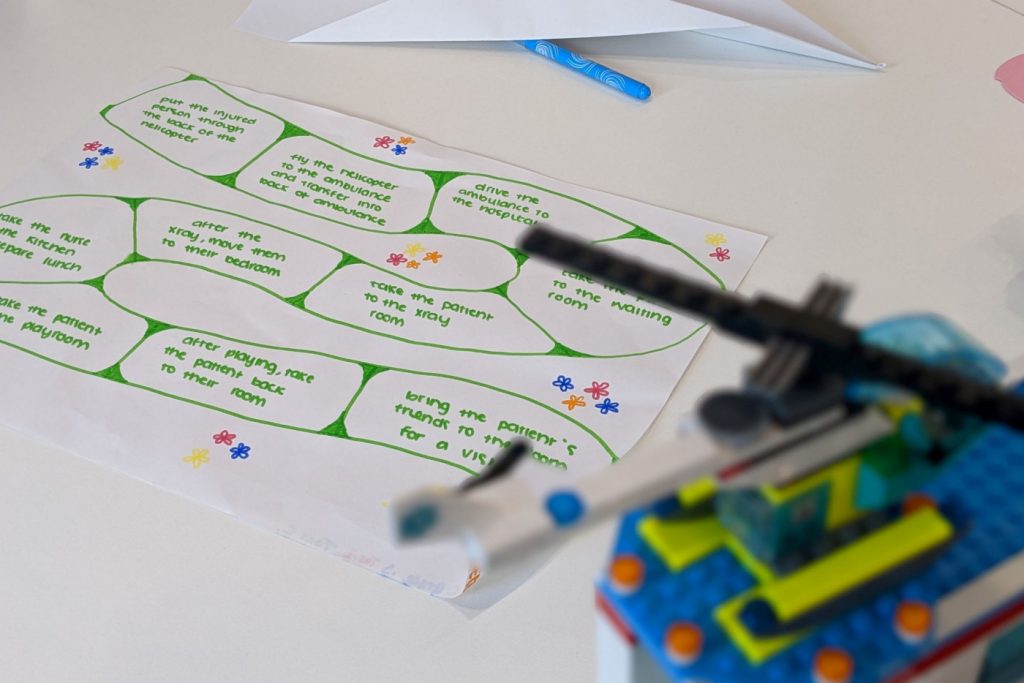 This playful workshop, aimed at children aged 7-11 and their guardians, explored strategies to reduce patient (children) anxiety around medical appointments and admissions. Featuring specially designed sessions of Jenga, LEGO® SERIOUS PLAY® and virtual reality experiences, attendees explored and addressed personal anxieties around medical appointments.
Jointly delivered by Dr Holly Henderson, Dr Heidi Singleton and Professor Debbie Holley, the event welcomed families with young children to Bournemouth Gateway Building to try out the various experiences on offer.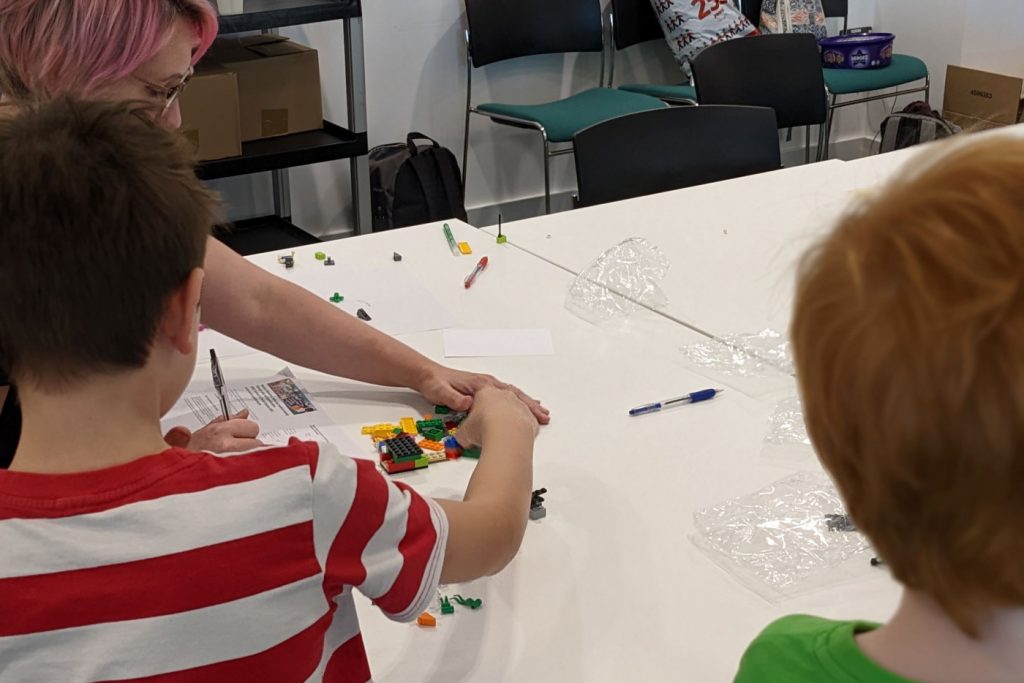 As with Taalia's event, these activities provided benefits for everyone. Not only were the organisers able to learn from trialling their activities with people of all ages, but the feedback of attendees will feed into ongoing research and projects to apply these techniques more widely.
"I think this topic of research is crucial. We have 2 children who are in hospital regularly and getting them to go to appointments is really challenging."
Feedback from attendee

"Welcoming, friendly and couldn't have come at a better time for us. Well-structured and useful – Thank you"
Feedback from attendee
---
All of the events this year were made possible by the ESRC, with whom we co-fund our annual festival activities. Event organisers applied through an internal process back in April 2022, and were selected by a panel from across BU. They were supported in bringing about their creative and engaging projects by myself (Adam Morris, Engagement Officer) and Beverley Allen (Events and Communications Co-ordinator).
If you'd like to take part in a future ESRC Festival of Social Science, it's a great time to start thinking about what you could propose. Start by reading our blog post announcing the call for proposals for this year's festival. If you'd like to start discussing your ideas, get in touch with the public engagement with research team at publicengagement@bournemouth.ac.uk.