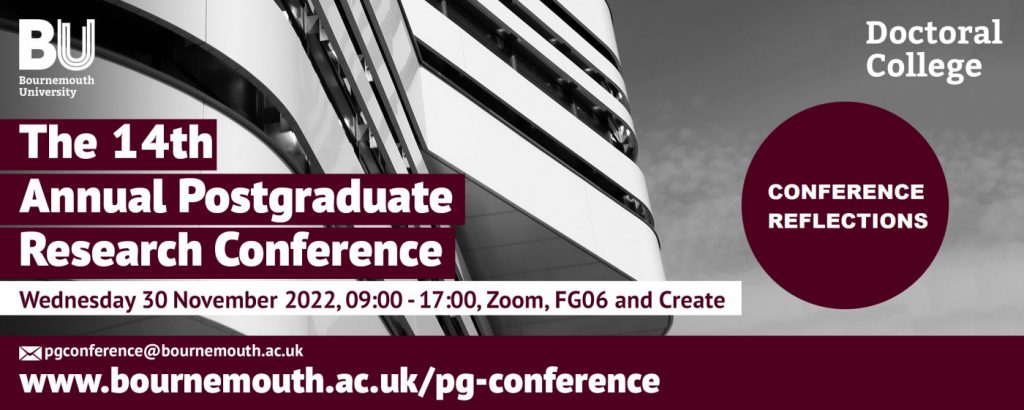 Thank you to all of our presenters, poster exhibitors, session chairs and of course delegates who supported the 14th Annual Postgraduate Research Conference. It is always a highlight on the Doctoral College events calendar and we hope you all enjoyed the day.
The conference had an amazing buzz and vibrancy about it, and it was so nice to see so many PGRs and colleagues turn up to show their support and promoting our positive PGR research culture across BU.
Here is what some of our presenters and delegates had to say about the day:
Emilijia Strelcenia, FST
I am highly appreciative of the Doctoral College for organizing this conference and creating such a platform for postgraduate students to showcase their research. The conferences gave me the opportunity to explore different fields, share ideas, learn from one another and create meaningful connections with researchers from various disciplines. It was an enriching experience, and I am thankful for the knowledge, experience, and connections that I gained from it. It was a great opportunity for all of us to learn and grow as researchers.
I strongly recommend this conference to any postgraduate student looking to further their research journey. It is an invaluable platform to network with peers while exploring the latest topics in your field. I am confident that attending this conference will help you gain the knowledge and connections needed to pursue a successful research career.
Cathy Beresford, FHSS
Thank you for organising such a fantastic conference. It was great to be part of it and to share my research poster. I particularly enjoyed the opportunity to meet with other post-graduate researchers and to find out more about the excellent work they are all doing. The oral presentations were especially thought-provoking – I liked finding out about the different topics that people are researching. It is amazing how varied the research is. I find that even if someone's specialism is completely different to mine, there is still something to learn from each other. It might be the methodology, ethical issues or simply the experience of undertaking a PhD. I will definitely be back next year!
Rama Permana, BUBS
Thank you for giving me an opportunity to present my poster. I have gained skills to make concise presentation media, as I learned from the related RDP workshop. This event also allowed me to reflect on my ongoing research and a networking lesson to attend more external conferences.
Caterina Franzon, FST
I really enjoyed taking part to the conference, it was stimulating and positive. Not only a good opportunity to present my study in a poster and attend many brilliant talks, but also to meet other PhD students. They were all invested and passionate. It was so inspiring to hear about their own projects, which were so different from mine and for this reason so interesting to discover.
Paula Shepherd, FHSS
Being able to present my formative stage of study has been a valuable experience. Of greater value, has been the opportunity to hear of others research journey. From managing dead ends, overcoming doubt, achieving results and illustrating the benefits for society, the whole day was energising and insightful.
The team provided an inclusive and welcoming atmosphere which contributed to the enthusiastic sharing of learning, both personal and professional. 
The conference really is a great opportunity for PGRs, at all stages of their research to share and discuss their work, with other researchers, outside of their discipline. You can view the posters on the conference webpage.
You can see more of the highlights from the day on twitter #BUPGRConf22 and #BUDoctoralCollege. 
I look forward to seeing many of your again next year!
Natalie [Doctoral College Programme Manager]
---
If you'd like to explore applying for a research degree please visit the postgraduate research web pages or contact the Doctoral College dedicated admissions team for more information.