Funding of up to £1,000 is available to deliver your event or activity. Apply to take part in the ESRC Festival of Social Science 2023 by completing the online application form by midnight at the end of Monday 10 July 2023.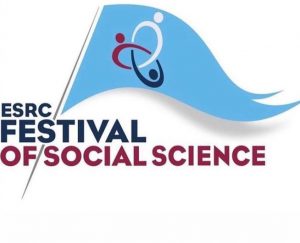 What is the ESRC Festival of Social Science?
The ESRC Festival of Social Science is an annual, UK-wide, free celebration of the social sciences. The festival consists of a series of events run each autumn, delivered by ESRC's 'festival partners', higher education institutions from across the UK. Events range from exhibitions, lectures, panel debates, performances,  and workshops. Bournemouth University has been involved in the Festival for over a decade.
This year's partnership with the University of Southampton
The ESRC have changed their rules this year around which institutions can take part in the festival. As a result, instead of being a standalone contributor to the festival, BU will be collaborating with the University of Southampton (UoS). This is a great opportunity for us to collaborate where relevant, on events, planning, promotion and sharing networks. We will still be selecting, organising and running most events ourselves.
What if I've never done public engagement before?
Everyone has to start somewhere, and this is the ideal place. You'll have access to support, advice and training throughout. If you're unsure, seek out a more experienced colleague to collaborate with.
Can I apply if I'm not a social scientist?
The ESRC says that events must "feature social science (ideally with a social scientist involved in the event)". If this doesn't clearly apply to you, consider these options;
Does your research have clear implications for society that could be explored from a social science perspective?
Could you collaborate with a social scientist, combining your resources and creativity to explore the impact of your research? If you're looking for a collaborator, the Research Blog or BU website are great places to start or contact us for help
What will I be expected to do?
Familiarise yourself with best practice for public engagement with research. Whether you're new to this or experienced, there's always room to improve
Submit an event proposal using the instructions below
Events will be selected by our internal panel
Plan, deliver and evaluate your activity or event, working with the public engagement team to shape your project into an impactful, professional and fascinating experience
Timeline (approximate)
| | |
| --- | --- |
| Open call for applications | 20 June – 10 July |
| Application deadline | 23:59, 10 July |
| Decisions shared | by 21 July |
| Event planning | 24 July onwards |
| Festival period | 21 October – 17 November |
How will the collaboration with University of Southampton work?
As this is the first year we have collaborated on the festival, we will learn as we progress. However, where possible we will be looking for opportunities to collaborate with UoS on events, sharing networks and promotion. If you collaborate with UoS researchers, this could be a great opportunity to hold an event together
Is there a theme?
The theme is 'lifelong wellbeing', but this is not compulsory. The ESRC want to see at least 25% of events on this theme.
Events can be on any aspect of health and wellbeing
The theme has been chosen so that you can include events on the 75th anniversary of the NHS if you wish to, but this is not essential
What support will I get?
Being part of this festival means a higher level of support and reach than we are normally able to provide.
Before applying, you'll have access to:
Advice on request from BU's Engagement Officer, Adam Morris
The detailed applicant guidance provided
When your application is successful, you'll get:
Funding of up to £1,000 managed by RDS
Training provided by the ESRC Festival of Social Science
Continuing advice and support from BU's public engagement team on all areas of planning, delivering, evaluating your activity
Wide-scale promotion and marketing of your event by BU, UoS and the ESRC
How to Apply
Apply to take part in the ESRC Festival of Social Science 2023 by completing the online application form by midnight at the end of Monday 10 July 2023.
If you would like to prepare your application 'offline' you can download a copy of the form. This is for planning purposes only, you may not submit it.
If you have any questions, please email the team: publicengagement@bournemouth.ac.uk