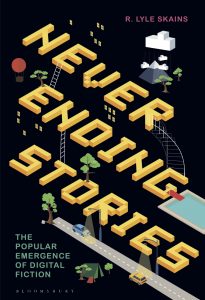 Bournemouth University and FMC researcher
Lyle Skains
has been awarded the N. Katherine Hayles Award for Criticism of Electronic Literature for her book 
Neverending Stories: The Popular Emergence of Digital Fiction
, released from Bloomsbury in January 2023. The award was announced at the annual
Electronic Literature Organisation (ELO)
Conference on 13 July 2023 in Coimbra, Portugal, alongside winners of the Robert Coover Award for a Work of Electronic Literature, the Marjorie C. Luesebrink Career Achievement Award, and the Maverick Award.
The ELO is the foremost international professional body for scholars and practitioners working in the field of electronic literature, and has been awarding works of scholarship on electronic literature since 2014. The organisation notes that "The N. Katherine Hayles Award for Criticism of Electronic Literature is an award given for the best work of criticism, of any length, on the topic of electronic literature… recognise[ing] excellence in the field." The award includes a plaque, one-year's associate membership of the ELO, and prize money of $1000USD.
In selecting Dr. Skains' Neverending Stories for the Hayles Prize, the jury made the following statement:
The judges of the 2023 N. Katherine Hayles Award for Criticism of Electronic Literature have unanimously recognized Neverending Stories: The Popular Emergence of Digital Fiction by [R.] Lyle Skains as the winning entry. The book is a granular exploration of both the evolution of digital fiction and its impact on (and positioning in) popular culture. The author's focus on marginalized authors/creators, as well as reframing accepted aspects of digital fiction, sets their work apart.

Skains does more than justice to a complex topic with her ambitious work spanning over half a century of digital literature development. Her analysis of multiple digital narrative forms – covering everything from text-based adventure games to creepypasta participatory fiction to 'archontic' fiction – is comprehensive and perceptive. The book navigates appreciable tensions between avant-garde and popular forms of digital fiction while seeking to recover hidden contributions of women, people of color, and LGBTQIA+ authors. The included case studies also provide invaluable insights into trends that are shaping the future of digital fiction, making the book a must-read for scholars, creators, and fans.

The judges wish to express that the task of selecting the winners for this year's N. Katherine Hayles Award for Criticism of Electronic Literature was exceptionally challenging due to the exemplary standard of entries received. The depth and diversity of perspectives presented in the entries made the deliberation process both stimulating and demanding. The judges extend our appreciation to all the entrants for contributing to the enrichment of the field, and for setting a remarkable benchmark for future submissions.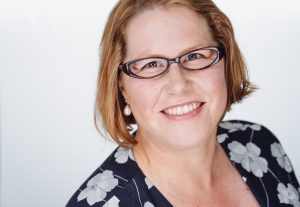 Dr. Skains joins Jessica Pressman, Mark Marino, Jeremy Douglass, and Lai-Tze Fan in winning this prestigious prize. She adds that, in addition to the acknowledgements made in the book, she wants to thank the support she's had in the field from generous mentors and peers, including Astrid Ensslin, Dene Grigar, Caitlin Fisher, Mark Marino, Stuart Moulthrop, Anastasia Salter, John Murray, and María Mencía, who edited the fantastic collection #WomenTechLit that inspired so much of Neverending Stories.