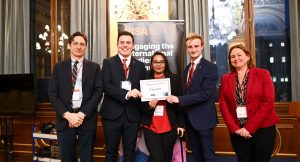 BU students in the Humanities and Law Department, Shahidah Miah (3rd year Law student), Alex Carey (2nd year History student) and Josh Pitt (3rd year Politics student) won the Distinguished Delegation Award at the BISA Model NATO. The event took place at the Foreign Commonwealth and Development Office on Friday, March 3rd, and was organized by the British International Studies Association in partnership with FCDO.
Over 100 students from 30 UK universities participated at the 2023 edition. It is the first time BU takes part in this simulation and wins a team award, against some powerful teams from universities with long tradition of politics and international studies.
What is BISA Model NATO – This is a simulation type of event. Students are randomly allocated a country and each student is part of a specialised NATO body – the Military Committee and the Civil Emergency Planning Committee. The students then have to agree a detailed set of actions to be endorsed in a final declaration by a simulated North Atlantic Council, NATO's highest authority. BU team successfully represented Canada.
In BISA's press release summing up the event, Mark Webber (BISA President) said: "The simulation is designed to provide students with experience of crisis decision-making; to get them into the heads of people having to make tough choices in very testing circumstances. The students rose to this challenge very well. The Model concluded with a declaration agreed by all the student delegates on how NATO should respond to a major natural disaster. The students performed just like seasoned diplomats."
Employability skills demonstrated. Simulation events are a recognised model of learning and allow participants access to insights unobtainable in a traditional classroom setting. Our BU students had very good & concise interventions, demonstrated excellent negotiating skills, proposed great initiatives and worked brilliantly as a team representing Canada, thus contributed to reaching overall consensus at the end of the day. They were true diplomats for a day. And they also networked with fellow students, staff from other universities and diplomats from FCDO. They received glowing praises for their interventions during the day.
Why this is so timely – Students participating in the model are working on the aftermath of a natural disaster – multiple earthquakes across the eastern Mediterranean and South-East Europe resulting in significant loss of life and mass displacement of populations. Given the current context, both geopolitical with the War in Ukraine and the earthquakes in Turkey and Syria, but also more broadly the climate change and the likely increase of natural disasters in the near future, working on such scenarios helps prepare students for real life situations. In addition, such events are inspiring students to embark upon careers and projects in diplomacy, government, non-governmental organisations and the military.
BU delegation at BISA Model NATO was advised and supported by Associate Professor Alina Dolea and Senior Lecturer Scott Keefer.
The full press release featuring our students is available here – BISA/FCDO Model NATO 2023 – Over 100 students from 30 universities | BISA