Sarah is giving a Community Voice presentation at the EDS ECHO Summit Series: Fatigue – Causes and Management at 4.32pm UK time in the "Exercise, Pacing and Diet" section, sharing some of her own tips and tricks for life managing several complex chronic health conditions.    This will be followed by participation in the live online Q&A session at approx 4.45 pm UK time.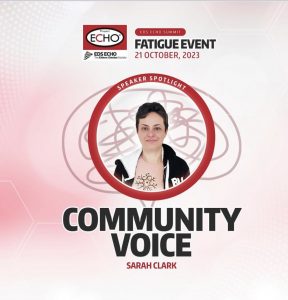 Sarah, who has hypermobile Ehlers-Danlos syndrome, is a Masters student at BU studying Clinical and Developmental Neuropsychology.  Sarah sits as a patient expert in the EDS International Consortium, Psychiatric and Psychological Aspects Working Group.
Sarah presented her BMJ paper "Help me trust you after my misdiagnosis" at The EDS Global Learning Conference in Dublin in August.
Sarah was diagnosed in May 2022 with Autism spectrum condition, a realisation she only made thanks to attending the autism lectures on her MSc course here at BU!  She recently completed her qualitative MSc Research Project, supervised by Dr Emily Arden-Close, on "What are the daily experiences of autistic people living with hEDS?" and has just started working on writing her dissertation up for submission to a journal.
Sarah is studying part-time at BU due to the time-consuming nature of managing several complex conditions. But alongside managing her wellbeing, Sarah regularly engages in public awareness work, volunteering and charity fundraising work. She is also a keen photographer, writer and yogi and was featured in Hotpod Yoga's Move with Purpose Campaign recently where she talked about her late-autism diagnosis: https://hotpodyoga.com/move-with-purpose/
Sarah is hugely grateful to the BU Community for the support and encouragement she's had over the past few years which has allowed her to make great leaps in improving her own health and wellbeing, as well as giving others hope.  You can read more about Sarah's inspirational journey on her website.