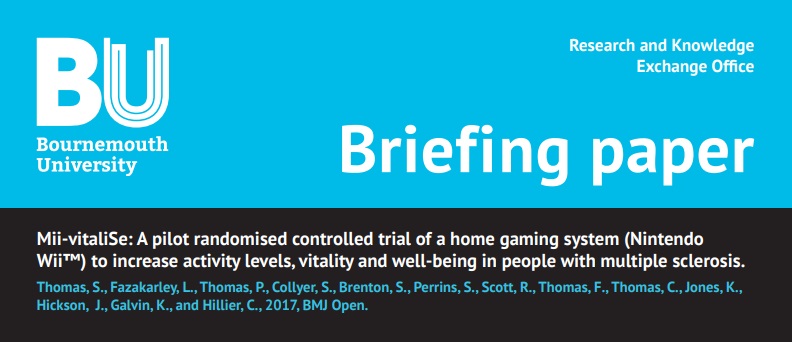 Our BU briefing papers are designed to make our research outputs accessible and easily digestible so that our research findings can quickly be applied – whether to society, culture, public policy, services, the environment or to improve quality of life. They have been created to highlight research findings and their potential impact within their field. 
---
The benefits of physical activity for people with multiple sclerosis (MS) have been recognised. Physical activity has been shown to be associated with improvements in mobility, muscle strength and physical fitness. Other secondary benefits might include reduced fatigue, depression and anxiety and improved sense of wellbeing.
This research team have developed a home-based physiotherapist supported Nintendo Wii™ intervention ('Mii-vitaliSe') for people with MS that uses commercial software. This is a pilot study to explore the feasibility of conducting a full scale clinical and cost-effectiveness trial of Mii-vitaliSe.
Click here to read the briefing paper.
---
For more information about the research, contact Sarah Thomas at saraht@bournemouth.ac.uk

.
To find out how your research output could be turned into a BU Briefing, contact research@bournemouth.ac.uk.