Written by Jamie Chadd (Research Administrator – Admissions and Conferment)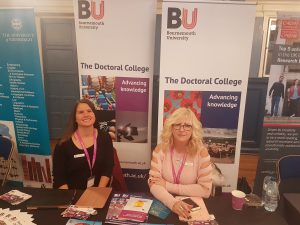 On Tuesday 31 October 2018, the Doctoral College sent myself, Academic Manager Julia Taylor and Marketing Account Manager Cathi Farrer to the FindAPhD Live! fair in Oxford. Our job was to talk to potential PGRs about what we offer at BU, from our areas of study and current research themes to fees, funding and Bournemouth nightlife. Armed with plenty of leaflets, booklets, postcards and pens, we spent three hours at Oxford Town Hall discussing research ideas and answering questions.
And there were plenty of ideas and questions throughout the session. We spoke to a lady who wanted to bring digital media into the world of fine art; a man who worked on using multiple different frame rates in the same film; an individual wanting to explore international aid and development law; another looking into the regional diplomatic effects of the Rohingya crisis, and many more ranging from health sciences to accounting and finance. We also helped to answer some of the burning issues potential PGR applicants have – how do you write a research proposal? Should I contact supervisors that match my interests? When are your studentships announced?
There was of course the opportunity to discuss the other things that make studying at BU special – the excellent Researcher Development Programme which offers a huge variety of workshops PGRs can tailor to their own needs and requirements, our work on the fusion themes and how they filter into our PGR environment, and the exciting new buildings being built both at Talbot and Lansdowne. Not to mention our sunny Bournemouth beaches, which might swing an application or two our way alone!
We also took this time to have a look at the other university stands and how they promoted their own research departments. There were some really smart prospectuses and brochures that have given us an idea or two, and conversations with representatives from other institution highlighted developments in the sector.
Our hosts were great too; their QR-scanning facility meant we could scan the badge of each interested person, logging their ideas down so we could email them specific information this week. We even managed to turn one of our conversations into an application which came in the next morning!
Overall the FindaPhd fair was a great opportunity to speak to prospective PGRs about their aspirations and understand what they are looking for at research institutions. We have taken on board what we found out and will use it to ensure BU is attractive to new students.
FindaPhD.com lists new PhD opportunities as they come out and also post plenty of articles about applying, writing research proposals and seeking funding.