Great news; two PhD students from the Faculty of Management, Department of Tourism and Hospitality have won PhD student of the year 2016.
Sarah Pyke; Institute of Travel and Tourism (ITT) PhD Student of the Year 2016 was awarded her prize at the House of Commons on July 20, 2016. Her research 'A Systems Theory Approach to the Well-being Effects of Tourism' was supported by the National Coastal Tourism Academy (NCTA) and was part of the ESRC Destination FeelGood project. It extends the forefront of the tourism discipline and makes a unique contribution to knowledge by using Hagerty's systems theory approach (a model extracted from the public health sector and for the first time applied in a tourism context) to quantitatively measure the well-being effects of tourism on the individual.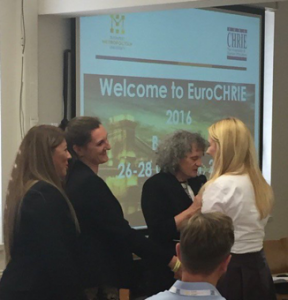 Sarah Price; EUROCHRIE, (the biggest Hospitality Conference in Europe) PhD Student of the Year 2016 was awarded her prize in Budapest, October 2016. Her research 'Trust in Foodservice' was supported by the EU project FoodSMART and identified key factors that consumers look for when selecting meals in workplace canteens. The project offered her the opportunity to be part of an International research team and take secondment periods in both France and Austria.
Many congratulations to you both – we are very proud of you