Register to attend (FREE) to our Favela Virtual Tours – all welcome!
Dates:
Tuesday 16th  November at 1 pm – Favela Virtual Tour Rio, Political and economic sustainability
Tuesday 7th December at 1 pm – Favela Virtual Tour Rio, Brazil 2, Cultural and environmental sustainability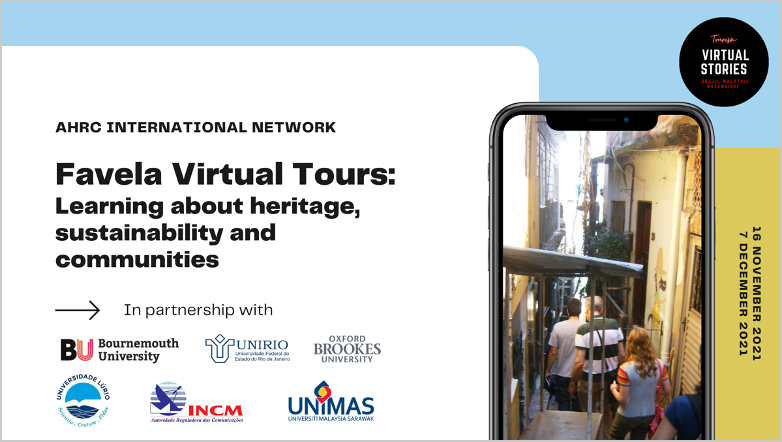 Would you like to travel light? Would you like to explore new places from a comfortable seat of your choice? Join us to our favela virtual tours in Rio de Janeiro (Brazil)!
On Tuesday 16th November at 1 pm, professional tour guides and favela residents, we'll take you into an online tour to get to know the favela's everyday life, residents' social campaigns, their leaders and favelas' storytellers.
We will be debating on economic and political sustainability issues in and between Rio's favelas. We will be understanding how local favela organizations mobilize residents' rights; how they collectively articulate their agendas and how they develop strategies to boost the local economy and political resistance. These issues are link with SGDs goals, especially goals 1 (No poverty) 10 (Reduced Inequalities) and 11 (Sustainable Cities and Communities).
The tour
will be led by the local guides: Cosme Felippsen, from Morro da Providência Role do favelados ; Erik Martins, from Rocinha, Rocinha by Rocinha and the Coletivo de Guias from Santa Marta Santa Marta Collective, who will work together during this virtual tour.
On Tuesday 7th December at 1 pm, two favela museums director and one favela tour guide in partnership with Revolusolar, we'll talk about protecting favela local heritage and providing solar energy for favela's residents. These issues are link with SGDs goals, especially goals 1 (No poverty) 10 (Reduced Inequalities), 7 (Affordable and clean energy) and 11 (Sustainable Cities and Communities).
The Museum of Favela (MUF) is a community-based civil society organization founded by cultural leaders living in Pavão, Pavãozinho and Cantagalo favelas. MUF aims to preserve the memory of the community, promoting the connection between residents and local culture. One current attraction is the 'Casas-Tela' Circuit which show different favela houses decorated with art murals. To find out more – MUF trailer
The Museum Sankofa: memories and histories from Rocinha is on the streets of Rocinha. The museum narrates what the favela o
f Rocinha really is, how this favela was constituted and where this favela's culture came from. To find out more – Museum Sankofa
Dinei Medina and Revolusolar from favela of Chapéu Mangueira are installing solar panels to generate electricity inside the favela. They have already installed three panels in two hostels and in one public building and they developed the first solar energy cooperative insight a favela. To find our more – Solar Cooperative
These tours are part of our project 'Promoting reflection and sharing within and across international communities' in partnership with Bournemouth University, Oxford Brookes University, Universidad Federal do Estado do Rio de Janeiro, University of Malaysia Sarawak and Universidade Lurio. It includes one ministry office (Autoridade Reguladora das Comunicações de Moçambique). For more information International Network.
To book tours check our International Network or through  http://bit.ly/eventfavelatour
Please follow us in our social media accounts
https://www.instagram.com/tourismvirtualstories/
https://www.facebook.com/TourismVirtualStories
https://twitter.com/TVirtualStories
If you are interested to organise a tour for your students, please contact us Isabella Rega at irega@bournemouth.ac.uk or Juliana Mainard-Sardon at jmainardsardon@bournemouth.ac.uk
We hope you can join us and see you soon in one of our virtual tours.
Thanks!