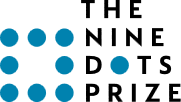 Friday saw the launch of the Nine Dots Prize – a new prize for creative thinking in the social sciences. It is sponsored by the Kadas Prize Foundation and supported by CRASSH at the University of Cambridge and Cambridge University Press.
The Prize will be awarded to the best response to its inaugural question: "Are digital technologies making politics impossible?" Applicants are asked to respond in 3,000 words. The Prize will be judged anonymously by its Board of 12 distinguished academics, journalists, authors and thinkers. The winner will receive $100,000 to support them in writing up a short book based on their response. They have the opportunity to spend a term as Visiting Fellow at CRASSH at the University of Cambridge and the book will be published by Cambridge University Press in an open access format. More details can be found at their website or via twitter @ninedotsprize, including closing and decision dates, and how to submit.
The Guardian have written the following article, which puts the prize in context.