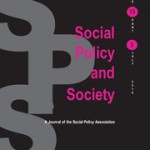 HSS PhD student Andrew Harding and fellow authors  Jonathan Parker, Sarah Hean and Ann Hemingway have recently had a paper accepted for publication in Social Policy & Society, the sister publication to the Journal of Social Policy and run by the Social Policy Association.
A critical yet under-researched area, the paper presents a comprehensive literature review that critiques current research on the outcome/impact of information and advice on welfare. A realist evaluation approach is then proposed as being capable to address critical weaknesses in existing research.
Among other areas that are covered, the paper provides an overview of the importance of information and advice in the context of the marketisation of UK welfare provision and a new 'efficacy framework' is developed which can be used to assess the scope of research.
A final draft post-refereeing version of the paper will be uploaded to BRIAN in due course.