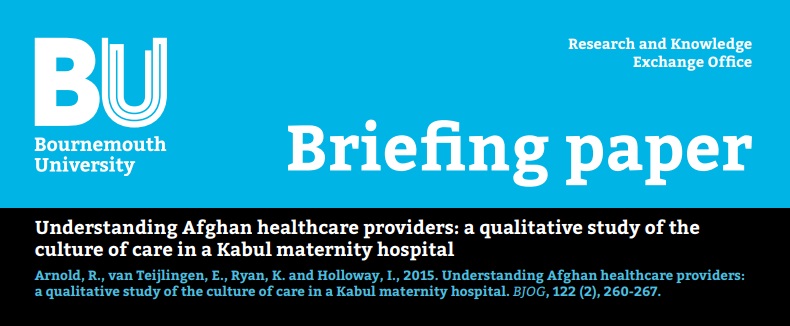 Our BU briefing papers are designed to make our research outputs accessible and easily digestible so that our research findings can quickly be applied – whether to society, culture, public policy, services, the environment or to improve quality of life. They have been created to highlight research findings and their potential impact within their field. 
---
This paper focuses on the perspectives of Afghan healthcare providers on their roles, experiences, values and motivations, and the impact this has on the quality of care for perinatal women and their newborn babies.  To understand their perspectives , the researchers undertook a six-week observation – including interviews and focus groups – to analyse the culture of a maternity hospital in Kabul, Afghanistan.
This research study offers multiple insights into Afghan healthcare provider behaviour and reveals complex interrelated issues that affect care in this setting.  It is one of few international studies that explore care from the perspective of healthcare providers in their cultural and social environment.  It reveals that understanding the context of healthcare is crucial to understanding behaviour and the underlying problems to quality of care.
Click here to read the briefing paper.
---
To find out how your research output could be turned into a BU Briefing, contact research@bournemouth.ac.uk.