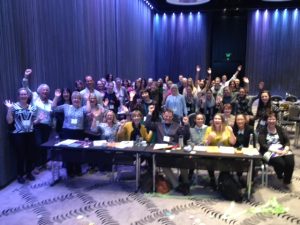 Caroline Ellis-Hill  from the Centre for Qualitative Research  has been sharing her work at the 41st Australasian Society for the Study of Brain Impairment conference  in Adelaide.
I was privileged to be asked to be a keynote speaker taking about lifeworld led rehabilitation and also facilitate a practical workshop around staff wellbeing and Humanising practice, guided by a lifeworld approach. Participants enjoyed the workshop, as can be seen from the photograph! The theme of the conference was 'Connecting and collaborating in rehabilitation' and firm connections with researchers and clinicians in Australia and New Zealand will create a wonderful opportunity to collaborate across the globe.
I was also invited to be a visiting academic at the Living with Disability Research Centre, La Trobe University , Melbourne where I presented a seminar and met staff in the department. It was great to see what was happening in terms of service provision and disability culture in Australia. Our BU Humanising practice work was very well received and I'm looking forward to working with colleagues at La Trobe in the future.
To find out more around Humanising care, health and wellbeing please go to: https://research.bournemouth.ac.uk/2013/11/humanising-caring-health-and-wellbeing/