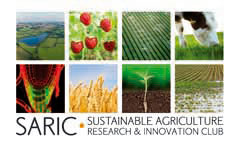 8-9 March 2016 (Tuesday – Wednesday)
Park Inn, Nottingham
The Biotechnology & Biological Sciences Research Council (BBSRC) and NERC invite you to participate in a two-day interactive strategic workshop (sandpit) with the ultimate aim of funding up to six multidisciplinary research translation projects within the remit of the Sustainable Agriculture Research Club (SARIC).
Applicants must register their interest to participate and will receive a formal invitation confirming attendance.
This is a SARIC event and therefore all proposal ideas developed during the sandpit must fall within the remit of SARIC and its two key challenges.
Specific business issues in need of addressing will be posed by SARIC industry members ahead of the sandpit.
Participants will be expected to present a project idea as part of a multidisciplinary team to an expert panel on the final day of the sandpit.
Sandpit participants will have the opportunity to submit a full research translation proposal through Je-S in early May 2016.
For those invited to attend, reasonable costs for travel and accommodation will be met.
For more information, please see the document below.
Sandpit call for participants (PDF, 185KB)
Registration
Please complete the online registration form to attend the meeting. Registration for this event will close on 26 February 2016.
Contacts
For further details please contact:
Anne Priest
01793 411723
annpri@nerc.ac.uk
Jodie Mitchell
01793 418004
jodark@nerc.ac.uk