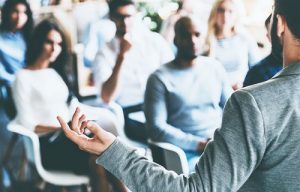 The R&D People and Culture Strategy was published by the UK government in July 2021. The strategy sets out the government's ambition to build the research and innovation workforce the UK needs, working in a positive and inclusive culture.
People are at the heart of research and innovation. This strategy sets out a vision for attracting, retaining, developing and valuing the full diversity of people needed for an inclusive, vibrant research and innovation system that can fuel the UK's recovery from the pandemic.
In her foreword, the then Science Minister Amanda Solloway described the strategy as a 'call to action'. Building on work by people and institutions across the sector, the strategy sets out a step-by-step approach to foster the research and innovation culture needed.
The strategy has three priority areas:  People, Culture, and Talent. The outcomes required are:
People: Redefining what it means to work in R&D in the 21st Century
Outcomes
• Attracting enough people with the right skills, across all roles
• Dynamic, varied and sustainable career paths
• Great leadership skills at all levels
Culture: Co-creating a vision of the culture we want to see in the sector
Outcomes
• A positive, inclusive and respectful culture
• Recognition and reward of all the people and activities that lead to excellent research and innovation
• Bullying and harassment is no longer an issue in the sector
• People feel confident to engage with and contribute to research and innovation
• Frameworks, assessment and incentives at an institutional level that encourage positive behaviours and support an inclusive culture
Talent: Renewing the UK's position as a global leader in R&D by attracting, retaining and developing talented people
Outcomes
• People from all backgrounds are inspired into careers in research and innovation by the UK's talent offer
• The UK will be the most exciting place in the world for top research and innovation talent
Short- and long-term goals are set out in the strategy.
UKRI is developing an ambitious programme of work to support the delivery of the strategy, working collaboratively with partners to drive forward lasting change.
UKRI First steps
Among the near-term actions set out in the strategy, UKRI will work to:
create a good practice exchange to develop, test and evaluate ideas to improve culture sourced from the community, bringing together people from across the sector to work creatively
launch a consultation on a new deal for post-graduate research students later this year, seeking input on funding, access, models and career routes
pilot experimental approaches to public dialogue and community-led research and innovation
co-design with partners a joined-up talent offer, open to a diversity of people across all career stages, connecting sectors, disciplines and working cultures.