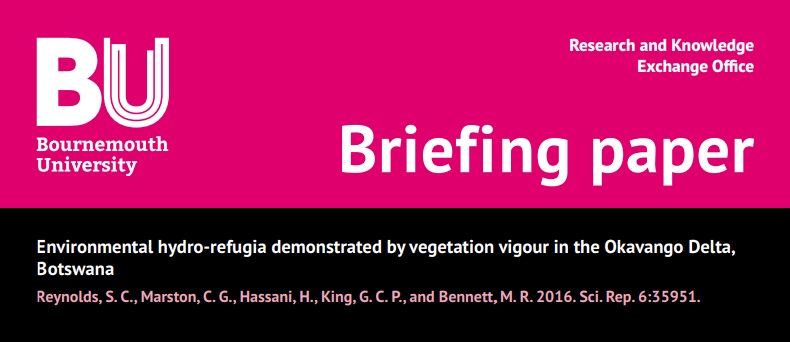 Our BU briefing papers are designed to make our research outputs accessible and easily digestible so that our research findings can quickly be applied – whether to society, culture, public policy, services, the environment or to improve quality of life. They have been created to highlight research findings and their potential impact within their field. 
---
Climate shifts at decadal scales can have environmental consequences, and therefore, identifying areas that act as environmental refugia is valuable in understanding future climate variability.
The Okavango Delta is the largest wetland in southern Africa and renowned for its high floral and faunal biodiversity. Due to the Okavango's distinctive hydrological properties, this paper aims to show how these properties reduce the amplitude of seasonal and decadal variations in vegetation vigour inside the Delta extent, and consequently, enhance its capacity to buffer climate, on at least decadal timescales.
This paper uses satellite remote imagery to show how a rift basin, given suitable hydrogeology, can provide a buffer against the influence of climate on vegetation growth and thus provide a relatively stable living environment for animals amidst an otherwise arid, desert habitat.
Click here to read the briefing paper.
---
To find out how your research output could be turned into a BU Briefing, contact research@bournemouth.ac.uk.