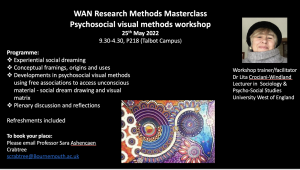 We are enjoying a busy second semester at the Women's Academic Network, now in its 9th year. Here we provide a brief snapshot of what's been happening and what's coming up.
Following our excellent Research Masterclass on Focus Group Discussions with Dr Emma Pitchforth, University of Exeter and Professor Edwin van Teijlingen of FSS in Semester 1, our second Research Methodology Masterclass workshop will be held on May 25. This time we will be covering Psychosocial Visual Methodologies, including learning about Social Dreaming techniques. Workshop facilitation will be offered by Dr Lita Crociani-Windland, University West of England. Lita is a British Psychoanalytic Council Scholar and Director of the UWE Centre for Social Dreaming and an expert is her field.  Register with WAN.
More Semester 2 events:
We have enjoyed two highly successful, open-to-all webinars recently.
On April 29, Pro-Chancellor Dr Sue Sutherland OBE introduced three eminent, media profiled, Independent Sage speakers, Professor Susan Michie, Professor Christina Pagel (UCL) and Dr Deepti Gurdasani (Queen Mary) for a powerful, punchy and candid discussion on the Online harassment and abuse of female scientists in the public sphere
On March 17 the BU Vice-Chancellor, Professor John Vinney, opened Women's International Day at WAN with this year's prestigious speaker, Jess Phillips, Labour Party MP for the constituency of Birmingham Yardley and Shadow Minister for Domestic Violence and Safeguarding. This was a hugely powerful and entertaining recorded session with one of the UK's most authentic, audacious, witty and eloquent politicians speaking on the topic of 'Another Year of Violence Towards Women and Girls!' 
 What else is going on?
The ever-popular WAN Writing Retreat is being held on July 11. Please register your interest.
WAN takes its responsibilities to support the career profiles of our women colleagues very seriously. Our annual Writing Retreat is a great opportunity to get down to some seriously inspired writing in a supported environment where your writing experience is facilitated by experienced and prolific women scholars.
Coming up: WAN speaker/panel series: 'Gilead Now? Resisting the March of Misogyny'. We are in the process of planning a number of events under our rolling new series that draws on Margaret Atwood's dystopic Handmaid vision to explore reminiscent manifestations of women's oppression emerging in contemporary societies.
Not yet a WAN member?
All women academic/PGR across any academic discipline can join WAN.
For more information and to register interest in events please contact:
Professor Sara Ashencaen Crabtree: scrabtree@bournemouth.ac.uk