Congratulations to Prof. Jonathan Parker,
Professor of Society & Social Welfare in the Department of Social Sciences and Social Work,
who just published his historical-sociological analysis of British Welfare under the title
Analysing the History of British Social Welfare – Compassion, Coercion and Beyond.
  The book it is published by Policy Press and will be available next week.   This book offers insights into the development of social welfare policies in Britain. By identifying continuities in welfare policy, practice and thought throughout history, it offers the potential for the development of new thinking, policy making and practice.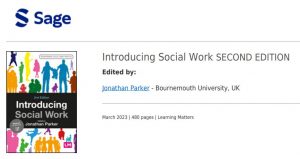 In addition Jonathan also published a new edition of his popular textbook Introducing Social Work SECOND EDITION.  This edited volume included chapters by BU academics Dr. Orlanda Harvey (Chapter 26) and Dr. Sally Lee (Chapter 22) as well as an array of internationally renowned social work academics.
Congratulations!
Prof.Edwin van Teijlingen
CMMPH