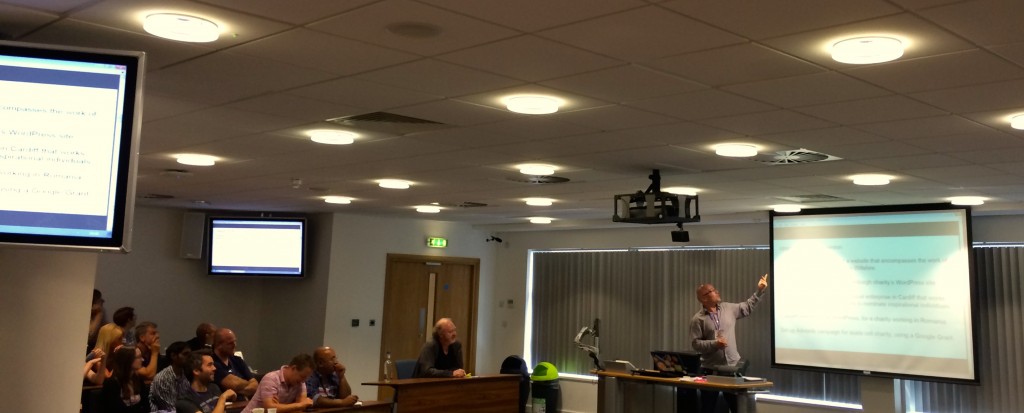 This weekend BU has been playing host to a fantastic group of the nation's best and brightest WordPress Developers for the 7th annual WordCamp UK event. The event is a chance for the community of WordPress developers to come together, share ideas and experiences, and provide each other with support and advice.  Over 100 people attended the event, coming both from the local conurbation, and from further afield – in particular one gentleman had come all the way from Spain!
Arriving Saturday morning I had the basics of WordPress down, having previously developed a free website for a local community event that consists of a few different pages and a blog feed.  Talks have been submitted to the running order by the attendees of the conference in advance, giving people a selection of topics to pick and choose from depending on their interests.  Sessions have been hugely varied, for example: "A beginners guide to web accessibility", "Learning to sell your services as a web designer", "Designing with data", and "How not to launch a startup".  One of the most helpful sessions from my perspective as a novice WordPress user was a series of 5 minute lightening talks on topics such as the importance of password security (to find out how long it would take a hacker to crack your password head to How big is your haystack?), how to set up a developer event, and a poetic recital of how to problem solve your website issues.
As well as attending the talks I've also benefitted from one of one tuition from other attendees on how I can develop sites offline and what plugins I could add to sites to make them more interesting and useful for the end user, all for no extra cost.  Overall this has been a fantastic insight into the power of WordPress and how I can use it to support my own projects and events at a minimal cost.   Considering tickets were just £10, I think there has been fantastic value in the weekend's activities and I would recommend to anyone with an interest in WordPress (professionally or privately) to consider attending future WordCamps around the country.