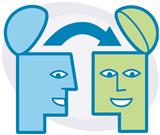 New ideas on how universities can improve knowledge transfer have been proposed following a six months project undertaken by JISC as part of a business and community engagement project.
 The search to find a better model for knowledge transfer stems from one simple practical problem: knowledge transfer is simply too inefficient as a process. The under-exploitation of the intellectual assets arising from universities has been widely reported.
 The new ideas are based on current innovation theory, modern social media tools and current thinking on market behaviour or motivation, to provide a more effective model of Knowledge Transfer; a model that is capable of delivering more with less.
 Recommended is a less proprietorial approach to knowledge transfer, and a new, open, technology-enabled approach which has potentially wide applicability across the sector.
 For more details click here.
The authors highlighted a number structural inefficiencies in current methods of knowledge transfer that manifest themselves in three pinch points that need to be cracked to increase successful knowledge transfer and IP exploitation:
· The project selection pinch point
· The business development pinch point
· The early-stage proof of concept pinch point
Proposed is a new knowledge transfer model based on the feasibility of:
Building a virtual KT organisation that moves beyond the university is more skilled, more scalable and better engaged than physically co-located employees
Funding it on a combination of external and incentivised or intrinsically motivated, resource
Reducing transaction costs via a combination of social media and automation in order to extend the number of opportunities that the university can handle.
For a summary of what is proposed, see presentation on link above. Start the presentation at 26 minutes.