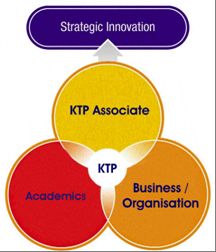 The Technology Strategy Board has made some revisions to the criteria a project has to meet in order to receive a Knowledge Transfer Partnership (KTP) grant. This has caused some confusion. In order to obtain clarification, Neil Grice, the local Adviser visited the University last week for a meeting with School representatives.
Listed below are the current key award criteria:
Project is for the development of a company capability, not a product.
On completion, the company is left with a legacy, e.g. a new capability or process.
Innovative – leading edge knowledge is transferred to the company. Can't be done by employing consultants, needs research.
Impact – the project makes a significant difference to the company which would not have happened without the KTP. University also receives significant results.
Challenge – Stretching for University and company.
Fits in with company strategy.
Company is financially sound.
Science and technology focussed. Difficult to obtain awards for social care, marketing and business development projects.
Awards are most likely to be granted for projects with small/medium sized organisations.
If you require any further information on KTPs in general please contact Peter Delgado, Commercialisation and KTP Officer, e-mail – pdelgado@bournemouth.ac.uk