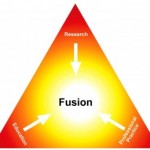 Fusion Conference – Wednesday 18 April:
The 'Fusion' series of internal conferences and seminars for 2011/12 continues on Wednesday 18 April with a 'Fusion in Action' conference hosted by Vice-Chancellor Professor John Vinney in the Executive Business Centre, Lansdowne Campus, from noon to 5pm.
The conference entitled 'Fusion in Action: Knowledge exchange with students, society and the professions' is firmly grounded in the context of Vision & Values and seeks to illustrate Fusion at its best. 
The conference will include contributions from staff and students through a combination of presentations, demonstrations and discussions.
The conference aims to showcase examples of staff engaged in academic and/or research-led activities associated with the professions and wider society and to identify:
·

        

how this helps create a unique academic experience for staff and students at BU

·

        

how students and staff can share in the learning experience

·

        

how such knowledge exchange can foster innovative learning experiences, pedagogic developments and research activities.
This half-day conference replaces the previous Education Enhancement Conference and Research Conferences held in previous years.  
Proposals for papers, poster presentations, discussion groups and/or demonstrations related to the theme are now invited.  These should be submitted to: fusionconference@bournemouth.ac.uk by Wednesday 7 March using the abstract form here: http://www.bournemouth.ac.uk/staff_new/edq/conferences/staff_conferences.html
If you wish to discuss possible contributions, please contact Julie Northam on extension:  61208 or Jennifer Taylor on extension: 61271 in the first instance.
The conference is open to all staff contributing to the delivery of programmes and research activities at BU and partner locations and will also involve presentations from the University Executive Team and members of the Students' Union. 
Link to bookings page: