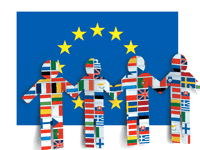 The general objective of the
call for proposals
is to support the implementation of Knowledge Alliances which should ensure stronger societal and economic relevance, and outreach in higher education, by strengthening the role of higher education institutions as engines of innovation and increasing the employability, creativity and innovative potential of graduates, professors and company staff.Through this pilot project, the grant from the European Commission will support the implementation of Knowledge Alliances, helping the partner organisations implement structured partnerships which should lead to innovative and collaborative approaches in their field beyond the lifetime of the project.
Knowledge Alliances are structured partnerships aimed at stimulating innovation by bringing together businesses and higher education institutions. Knowledge Alliances should foster the role of Higher Education institutions as engines of innovation, through the flow and active exchange of knowledge between higher education and business, in turn leading to the development of long-term strategic partnerships between Higher Education Institutions and companies. These partnerships should support companies in providing new approaches to the professional development of their staff. Knowledge Alliances should also provide incentives to try out new and innovative teaching methods, to promote entrepreneurship and entrepreneurial mindsets, to foster the generation of new ideas and interdisciplinarity through co-operation. The deadline is June 28th.
UKRO have also released an article giving further detail on the call and the application process which you can access here.