Who am I?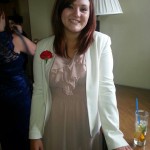 I'm Emily Loring and I am currently a BU undergraduate Business Studies with marketing student on my placement year here at BU. During my placement here I will be based in the Research and Knowledge Exchange Office as the event co-ordinator for the Festival of Learning 2014 and many other public engagement events. I am so excited to get stuck in and working with different members of staff and academics, but my first task has been to understand why public engagement is important for Bournemouth University.
Why am I researching the importance of public engagement?
Researching the importance of public engagement has enabled me to gain an insight into what it actually is, why it is of great importance and how it can benefit numerous people external and internal to the university. Not only is the research I am finding broadening my knowledge on the topic, but it is aimed to show and demonstrate to you why you should get involved with public engagement.
 Dr John Drury of the University of Sussex:
"The most important benefits I have gained from these public engagements are to see the influence of my research"
What is Public Engagement?
Public engagement is the "myriad of ways in which the activity and benefits of higher education and research can be shared with the public", it is a "two-way process, involving interaction and listening, with the goal of generating mutual benefit" (NCCPE, 2013). Our strategic plan, BU2018: Creating, Sharing and Inspiring, encompasses the continuous development of our public engagement activities to bring BU and the community closer together, by using our most valuable resources.
Why does it matter? The 3 main reasons: (NCCPE, 2013)
1.       "It brings significant benefits to universities and to the public"
Public engagement activities provide mutual benefits both for the university itself and the members of the general public.
Universities that commit and dedicate to public engagement activities create long-term relationships with the community, businesses and general public.  Publically engaged activities help academics and researchers to understand, recognise and learn what the public expect and what their concerns are in order to come one step closer to solving real-world problems and issues. Involving members of the general public in academic research and listening to them, enables researchers to make their decisions and research more responsive to society.
Public engagement activities provide numerous benefits for the wider audience, as the distribution of knowledge to those outside of the academia world not only has a major impact on their lifestyles, but also encourages and inspires them to participate in more educational activity.
2.        "Funders and policy makers expect universities to do it"
In order for projects and research to be funded, then your funding providers need you to illustrate the impact it will have on the public and why it is of benefit to them. Academic research is funded to inspire and teach those inside and outside of our institutional walls. The Festival of Learning 2014 provides academics with an excellent opportunity to demonstrate the usefulness and benefits of their research to the members of the public.
3.       "It helps universities adapt to a changing world"
The world is continuously changing and universities have the responsibility to adapt to these changes. Public engagement allows them to do so by understanding the changes in the community and the world and then readapting themselves to meet the needs of the community… and the world. "Public engagement puts universities on the front foot, demonstrating a proactive approach to:"
"Accountability and Transparency"
"Values and Purpose"
"Trust"
"Relevance"
"Responsiveness"
Why you should get involved in public engagement: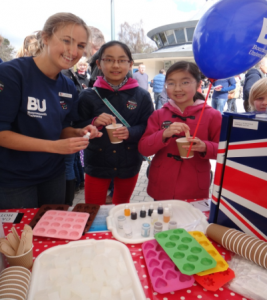 1.       Presenting and displaying your research inspires our local community
Public engagement not only informs the public of our research, but it allows them to engage with it. Our strategic vision (BU2018) aims to see BU share its expertise and knowledge and to inspire. By getting involved in public engagement activities, you now have the opportunity to showcase your dedicated hard-work, be #BUProud and share your findings with the people that have the same interests as you.
2.       Your research can be improved and updated
By getting involved in public engagement activities, this can help you to increase the quality and efficiency of your research.  Organising a public engagement event gives you the opportunity to interact and learn from the members of the public who can have a constructive influence on your research. Professor Alan Winfield of the University of the West of England, Bristol mentioned that "Engaging the public in, for example, interpretation of research results can directly improve the depth and quality of that interpretation and feedback into new research questions which has added a new dimension to my research".
3.       New issues can be raised
Public engagement at Bournemouth University provides a forum for members of the public to raise new issues and thoughts that concern them within your area of expertise. This will encourage you to work with the local community to address these important issues and build a long term relationship. Jackie Pearson of the National Oceanography Centre stated "I felt that the questions from the public made the researchers stop and think as they raised issues and expressed views that otherwise might not have been considered".
4.       Enhance the profile of your research
Public engagement enables you to share your findings with others which will help you and your research get noticed. This will make you more visible to the public eye, the media and the research community, therefore enhancing the profile of your research. Dr John Drury of the University of Sussex stated "I had a lot of popular media interest and each feature and media appearance raised my profile and that of my department and the University of Sussex".
Benefits and 'What's in it for me?'
Research Councils UK "believe that engaging the public with research helps empower people, broadens attitudes and ensures that the work of universities and research institutes is relevant to society and wider social concerns" and that "public engagement is regarded as an important and essential activity by the research community".
1.       Skills Development: getting involved with public engagement can develop new or existing skills such as communication, organisation and confidence.
2.       Influence and networking opportunities: Public engagement enables you to interact and communicate with a variety of experts in your field, Dr David Chadwick of North Wyke Research stated that "it vastly changed networking opportunities, bringing different experts together and has been the most enjoyable project in my career to date".
3.       Forming new collaborations and partnerships
4.       Enjoyment and personal reward: Many researchers have found that they enjoy interacting with members of the general public and feel a sense of achievement for providing them with something that may not have had the opportunity to have before.
5.       Additional Funding: by involving yourself with public engagement increases your chance by a vast amount of being awarded funding. Professor Colin Pulham of the University of Edinburgh mentioned that "without public engagement, I would have been less successful at gaining industrial funding. It enhanced my ability to interact with industrial funders who often have diverse backgrounds".
6.       Increasing student recruitment: sharing your research with the public inspires a whole new generation of students to study degrees at Bournemouth University and Inspires the next generation of researchers.
Call to action…
As you can see, getting involved in public engagement brings numerous benefits to everyone and is very significant to your research. It is time to start thinking about how you can engage with the public, whether it is an exhibition, a talk, short course or interactive session. There are many useful sites that you can use to get you brainstorming such as the National Co-ordinating Centre for Public Engagement and Research Councils UK.  
If you have an idea on how you would like to engage with the public with your research, please contact:
Rebecca Edwards: 61206  redwards@bournemouth.ac.uk
or
Emily Loring: 61356  eloring@bournemouth.ac.uk