1. Stand-up comedy?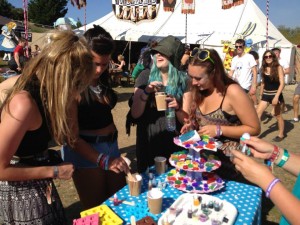 Have you heard about 'Bright Club'? The event where university lecturers and researchers come together to do stand-up? If not, please have a listen! Organising an academic stand-up comedy evening not only brings gut-busting laughter but it is also a fantastic way of getting involved with public engagement. Truth is that many members of the public may not think to spend their evening in a lecture, but they will be extremely tempted to head out to a local pub for a comedy night! For the researchers involved, it is a great way of two-way engagement, as the key to successful stand-up is interacting with your audience.
2. Café Scientifique – Why not run your own Café Club?
'Café Scientifique' is an event, which for the price of a drink anyone can learn about the latest ideas in science and technology. They take place all over the world, and in Bournemouth a monthly event organised by BU and AECC at Café Boscanova. Organising an event that occurs regularly will engage the public especially; as they will be intrigued as to what new knowledge you can bring to them. Perhaps you could think about your own type of regular café to run, such as a philosophy café?
3. Junk the Jargon

Organised by the University of Manchester, Junk the Jargon is a "competition, challenging early career researchers from all disciplines to communicate their research topic to a general audience in just 3 minutes". Organising an event like this would be a fantastic opportunity to help researchers communicate their research to the members of the public in an interactive way and will build interest and curiosity. This competition asked researchers in 3 minutes to:
"Engage, inspire or challenge the audience"
"Communicate their research simply and directly"
"Share their research but avoid the jargon"
"Show why their research is important and relevant"
4. Re-create
This event ran by Manchester Metropolitan University (MMU) in partnership with the Manchester Children's University, Websters Primary School and North Hulme Adventure Playground (NHAP) was aimed to "engage children with the importance of recycling and raise awareness of environmental sustainability and promote community cohesion". A community art exhibition was displayed made with unrecyclable materials.
Events like this or similar will not only help us to build relationships with the children of the community, but will help influence them and bring them to date with the important issues of today, which will in turn have an impact on their future lives.
5. Ten things you didn't know about Ice-cream
As part of the University of Cambridge science festival, academics ran an event on 'Ten things you didn't know about ice-cream' which explored the ten different scientific reasons as to why Ice-cream is the world's coolest desert!
Are there ten things that you feel the public would find exiting about your research? If so, then this is definitely an innovative and imaginative way of getting your research across to the members of the general public!
6)      Genetics: Blame your parents
Why do you look, act and behave the way you do? – Genetics, it's your parents fault!
This exiting and interesting event organised as part of the Glasgow Science Festival is definitely one for inspiration! Your research can interest and fascinate so many members of the public; therefore it is crucial for you to present this in a way that is attractive and amusing.
The Dinosaur Museum, Dorset regularly holds a great dinosaur hunt event, where children search for clues and hints to solve a dinosaur mystery. Holding an event similar to this is extremely engaging and gets the children more involved. For example those who have a research interest in the CSI area could perhaps hold an event for the younger generation (as well as the older) to teach them and allow them to get involved with solving mysteries.
8)      Passport to the past
This event as part of the Cambridge Festival of Ideas this year will allow children to attend a drop-in session whereby they design their own "passport to the past before taking a journey round the ancient world to learn more about our casts?" Organising an event like this relevant to your research will not only be interactive and engaging, but it will be fun and memorable. The children whom you distribute your knowledge to will be equipped with this knowledge and remember this experience for the rest of their lives.
9)      Perception
Perception is an interactive exhibition that is also being held at this year's Cambridge Festival of Ideas. The exhibition will enable the members of the public to find out how illusions can fool their brain and how they perceive the world around them. Why not hold an exhibition that tests people's perception of things?
This interesting and exciting event for children (7-11 years) will definitely be another one to look at for some inspiration! This performance will focus on Professor Hallux, who has been building a body. With the help from his assistant, Nurse Nanobot, "he must check through every component from the brain, heart and lungs to the eyeballs, nails and teeth to work out just what's gone wrong". The performance enables children to have the opportunity to meet characters from medicine's past and present, which encourages them to get involved and understand a bit more about how the body works!
By getting more involved with your research and presenting it in a more creative and interactive way (like a performance) can help publicise your excellent research and also to target and attract a new audience.
A multi-media production is a participative and fun way to teach children those areas that are deemed to be "dull" and "boring" – and it is also great fun for the event holders too!
The NCCPE (National Co-ordinating Centre for Public Engagement) website provides previous examples of successful public engagement events – perhaps you could use these to stimulate creative and imaginative public engagement ideas?