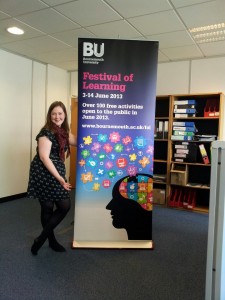 As an Undergraduate Events Management student here at BU, looking for a placement opportunity was one of the biggest challenges I've faced.  Some people of course get lucky and get their dream placement after two weeks of looking and their first interview, however for the less fortunate (or potentially more picky!) of us, second year is a hard lesson in rejection from what felt like every events and marketing company in the UK – and I think at one point an engineering firm as well.  I am however, so glad to have missed out on all of those jobs, as working for R&KEO as the Festival of Learning Event Coordinator I've ended up having the best placement experience I could have hoped for!
Coming into R&KEO Development and Operations as the youngest person by the best part of a decade (sorry guys!) could have been incredibly daunting but they are thankfully a fantastic team of very friendly and supportive people who are always happy to help. I've had a brilliant year working on a huge variety of events and learning something new at every one of them!  In the past year I've come to really enjoy working with BU academics to organise public engagement events around your fantastic research and I'm a little sad to not be involved with the Festival of Learning 2014 – although incredibly excited to have some time available to actually attend some of the events!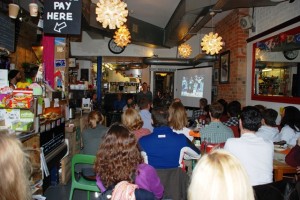 Launching Café Scientifique with colleagues from AECC back in October 2012 definitely has been one of the many highlights of my year and continues to be an event I look forward to each month.  Whether it's watching Bryce Dyer bounce around on his kangaroo shoes to explain the momentum of prosthetic running blades, or trying very hard not to yawn through Simon Thompson telling us the psychology behind why we yawn, there has always been something new and interesting to learn! If you haven't come along to one before make sure you head to Cafe Boscanova on Tuesday 3 September at 7.30pm to hear all about Performance Enhancing Drugs in sport from Southampton's Professor Richard Holt – they're always a great night out and the team at Boscanova serve up some wonderful food and drink.
Having a placement year included in the Event Management course was one of the main reasons I chose to come to Bournemouth University (although, the proximity to the beach and the fact it's supposed to be one of the sunniest places in the UK didn't hurt either!) and it has been even better than I expected – I now don't want to go back to studying!  Thank you to everyone I've worked with this year you've all been wonderful.