Just under a year ago we published the second edition of the Bournemouth Research Chronicle (BRC). It went to print after the start of my maternity leave, meaning I got out of stuffing envelopes and posting hundreds of copies!
It was definitely worth my colleagues' efforts though. Academic peers, research partners, potential business collaborators and journalists were among the recipients and the feedback was really positive.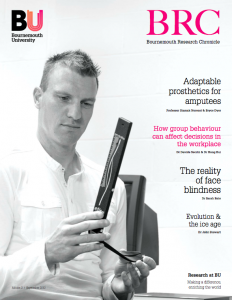 The BRC is a glossy magazine highlighting a range of BU research projects, presented within our eight societal themes. We've just begun preparations for the next edition, which will focus specifically on some of the fantastic impact-led work being carried out across BU.
Where work is at, what we call the 'interim impact' stage, the right effort and energy can propel it towards phenomenal impact in the future. The BRC is just the sort of vehicle to help achieve that. Featured research could land on the doorstep of a business eager to apply your findings, or in the inbox of an influential opinion leader or policy maker in your field. That's why communications activity is such an important part of the life cycle of a research project. Often it is the bridge between the research and societal impact.
So please tell us about your impact-led projects. There is some space left in the next edition of the BRC, as well as numerous other communications opportunities to reach the audiences that need to hear about your work. My contact details are in the BU address book, so do get in touch with me (Sally Gates).
Incidentally, Bryce Dyer, pictured on the front cover of the last edition, is presenting one of the award lectures at next week's British Science Festival in Newcastle. Congratulations Bryce and good luck!
And who's up for being on the front cover of the BRC this time round…?