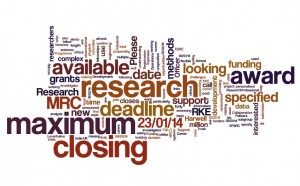 The following opportunities have been announced. Please follow the links for more information:
 UK Funders:
The AHRC invites expressions of interest to attend a research development workshop addressing the challenges of

Disconnection, Division and Exclusion

, being held as a part of the cross-Council Connected Communities Programme on 18-20 March 2014 at the Novotel Sheffield Centre Hotel. This is part of the AHRC Connected Communities Programme. The deadline for applications to attend the workshop is 30/01/14.

 

Action on Hearing Loss and BBSRC have issued a 'highlight notice' regarding Lifecourse of the Auditory System. Together they wish to encourage research that will increase our understanding of how the auditory system develops and ages and the processes that lead to age-related hearing loss. They also wish to encourage research that will apply this knowledge to prevent and treat hearing loss to ultimately improve quality of life. Applications are to be submitted by 31/01/14.

Network grants

are available from the EPSRC to bring together researchers, industry and other groups to develop collaborations through workshops, visits and part-time coordinators. The grant award is not specified and there is no deadline given.
The EPSRC has a call for research that will support fundamental research in sensing and imaging targeted specifically at the

diagnosis of Dementias

and the quantitative measurement of disease progression. The total award is not specified. The closing date is 17/02/14

The EPSRC Engineering Theme wishes to develop collaborative projects between researchers from the UK and China in partnership with the National Natural Science Foundation of China (NSFC) in the area of '

Sustainable Materials for Infrastructure

' under the following themes: Multi-functional materials; Energy efficient buildings; Novel concrete technologies and Materials 5R; Reduce, Recover, Reuse, Recycle and Retain. Registration closes 20/01/14 with proposals due by 19/02/14

Reflecting the aims of the National Cyber Security Programme, UK Government and its delivery partners are working to increase the UK's academic capability in all fields of Cyber Security. Together BIS, the Centre for the Protection of National Infrastructure (CPNI), EPSRC, GCHQ and the Office of Cyber Security and Information Assurance (OCSIA) have developed a joint approach and strategy for reaching this goal. As part of that strategy EPSRC and CPNI are inviting proposals from academic researchers who wish to be part of the

Research Institute in Trustworthy Industrial Control Systems

(ICS). Submissions to Phase Two must be received by 13/02/14 (it is not a pre-requisite to have submitted to Phase One).

End Use Energy Demand (EUED) Research Centres

is an RCUK / EPSRC Energy Programme call to encourage researchers who are not in the centres to work with the centres. The proposed research should be on a topic relevant to one or more of the EUED Centres. Two types of proposal are invited: Smaller Standard Research proposals (limited to £300k) for individuals at an early stage of their career to work with the DEMAND centre at Lancaster University and standard Research Proposals (limited to £600k) to work with the other EUED Centres. Expressions of Interest must be submitted by 06/02/14 with full invited proposals to be with the funder by 16/04/14.

The

Research Seminars Competition 2013-2014

, supported by the ESRC, is now open. Funding is available for UK research organisations to hold Research Seminars for groups of academic researchers, postgraduate students and non-academic users from different organisations. Seminar groups meet regularly to exchange information and ideas with the aim of advancing research within their fields. There is a maximum of £30,000 available and proposal must be submitted by 28/01/14.
Do you want to have an impact on the future of the UK? The ESRC are inviting full proposals from eligible research organisations across the UK to conduct a study of the 2014 Scottish Independence Referendum. The maximum amount available is £312,500. The deadline for submissions is 06/02/14.
ESRC and DFID are pleased to invite applications for Evidence Synthesis Research Awards (ESRA) under the ESRC-DFID Joint Fund for Poverty Alleviation Research. The five themes are: Research methods, Gender, Children and young people, Governance and Health. Awards are up to £30,000 and must be completed within six months of the start of the award. All awards will commence between 1 April and 1 June 2014. Applications are due on 28/01/14.

Biomedical Catalyst: Developmental Pathway Funding Scheme

(DPFS) is a £180 million integrated translational funding programme jointly operated by the MRC and the Technology Strategy Board providing responsive and effective support for the best life science opportunities arising in the UK. There are various deadline dates in early 2014 depending on theme – please check website for details.

The

Alexander Fleming dissemination scheme

support the dissemination of MRC and Medical Research Foundation-funded research results beyond the scientific peer reviewed press, to patients, participants, practitioners and policy makers. Up to £30,000 is available and there is no given closing date.
The MRC are offering

Programme Grants

. These provide larger, longer term (five years) and renewable programme funding and aim to help the medical science community to 'think bigger' in the themes – Molecular and Cellular Medicine,

Infections and Immunity, Population and Systems Medicine Board and Neurosciences and Mental Health. Applications are to be submitted in January 2014. Please check the website for details of each theme.

The MRC wishes to understand better the link between research and

wider economic and societal impact

s, and to use this understanding to improve strategies for the future support of research. As such, there is a call for studies which address all areas if impact, such as economic, societal, cultural, public policy or services, health, or quality of life. Applications must be submitted 27/03/14.

Do your research interests consider the impact of the harm caused by alcohol to

drinking behaviours

? MRC, ESRC and Alcohol Research UK wish to continue making key contributions to this field, in this case through providing authoritative evidence on the link between the specific harms caused directly by a distinct pattern, level and duration of alcohol drinking at key stages in the life-course. Work packages between £750,000 and £1.5m are expected. The closing date is 04/02/14.
The MRC and the National Natural Science Foundation of China (NSFC) invite proposals to the

UK-China Stem Cell Partnership Initiative

from high quality research teams based in the UK and China. The initiative will provide funding for collaborative research projects, focussed on basic and preclinical research of relevance to the longer term development of stem cell based therapies for human disease and disorders. Up to £2m is available and the closing date is 07/05/14.

Natural Resources Wales with support from Welsh Government and the Technology Strategy Board (SBRI) are seeking innovative (Fenceless Fencing Solution) measures to control livestock access around watercourses and riparian zones to reduce the impact of agriculture. The small business research initiative (SBRI) process is being used to find innovative alternatives to traditional wood and wire fencing. Application submissions for Phase One are due on 06/01/14.
NERC's Large Grants support adventurous, large-scale and complex research tackling big environmental science questions that cannot be addressed through other NERC funding opportunities. Grants are available between £1·2m and £3.7m, 100% (Full Economic Cost) with a duration of up to five years. Outline proposals are due by 20/03/14 and full proposals by 11/11/14.
Royal Society-DFID Africa Capacity Building Initiative is a programme is for scientists who want to develop collaborative research consortia between scientists in sub-Saharan Africa and a research institution in the UK. The overall aim of the scheme is to strengthen the research capacity of universities and research institution in sub-Saharan Africa by supporting the development of sustainable research networks. Up to £1.243m is on offer. Applications are to be submitted by 09/04/14.
Have you written a science book which makes your field more accessible to public adult audiences? Then consider the 2014 Royal Society

Win

ton Prize for Science Books

. The deadline to enter a book is Friday 28 February 2014.

The Technology Strategy Board is supporting, with an investment of up to £1.5m, feasibility studies to stimulate innovation in

networked intelligent sensor systems

, and new applications of them. Proposals must be collaborative and business-led. Applicants must register by 22/01/14 and submit by 29/01/14.

The Technology Strategy Board, together with the Engineering and Physical Sciences Research Council and China's Ministry of Science and Technology are offering

UK-China partnerships in sustainable manufacturing

. Through this scheme there is investment of up to £3m in collaborative R&D projects that make manufacturing processes more sustainable. Applicants must register by 19/03/14 with the proposal to be submitted by 26/03/14.

Are you a postdoctoral scientist who has recently decided to recommence a scientific research career after a continuous break of at least two years? Then The Wellcome Trust may be able to help you with a Career Re-entry Fellowship. It gives such scientists the opportunity to return to high-quality research, with the potential to undertake refresher or further training and is particularly suitable for applicants wishing to return to research after a break for family commitments. Applications must be submitted by 08/05/14.
Through The Wellcome Trust, the

Sir Henry Wellcome Postdoctoral Fellowships

provide a unique opportunity for the most promising newly qualified postdoctoral researchers to make an early start in developing their independent research careers, working in the best laboratories in the UK and overseas. Up to £250,000 is on offer. The Preliminary application deadline is 08/05/14 with the invited full application deadline being 18/07/14.

The Wellcome Trust's Research Career Development Fellowships in Basic Biomedical Science provides an opportunity for postdoctoral scientists from across the remits of the Trust's funding streams to become independent research scientists and undertake high-quality research in an eligible Republic of Ireland institution. Closing date 16/04/14.

The

Sir Henry Dale Fellowships

, offered via The Wellcome Trust is for outstanding postdoctoral scientists wishing to build their own UK-based independent research career addressing an important biomedical question. The closing date for this call is 16/04/14.
The Wellcome Trust is offeringPrincipal Research Fellowships.  This is the most prestigious of our personal awards and provides long-term support for researchers of international standing. Successful candidates will have an established track record in research at the highest level. This award is particularly suitable for exceptional senior research scientists currently based overseas who wish to work in the UK or ROI. There is no closing date given.
Biomedical Vacation Scholarships are offered by The Wellcome Trust. These awards provide promising undergraduates with hands-on experience of research during the summer vacation, with the aim of encouraging them to consider a career in research. Scholarship holders in the past have included students of biological sciences (including biology, sports science and pharmacy) and medics, vets, dentists and optometrists. Up to £1,520 is available and the call closes on 14/02/14.
Are you working at the edge of your discipline? The Wellcome Trust – Massachusetts Institute of Technology (MIT) Postdoctoral Fellowships provide four years' support for recently qualified postdoctoral researchers to gain experience of research at the interfaces between biology/medicine and mathematics, engineering, computer, physical or chemical sciences. Closing date 07/07/14.
The Welsh Government is supporting research

to enable nurses to spend 10% more time with patients in direct value adding care

. This is an exciting opportunity for businesses and innovative organisations to work with BCU HB over the next 2/3 years to improve patient care, enabling staff to spend more time with their patients and also to support business to develop innovative technology which will be marketable for the future. This is an open competition and will be run in 2 phases, with businesses able to bid for development contracts of up to £40k in phase 1 (proof of concept) and up to £400k in phase 2 (demonstrator projects). There will be a Briefing Event /Supplier Day on 17/01/4 and submissions are due on 31/01/14.
European Funded Research:
 Please note that some funders specify a time for submission as well as a date. Please confirm this with your RKE Support Officer.
You can set up your own personalised alerts on ResearchProfessional. If you need help setting these up, just ask your School's RKE Officer in RKE Operations or see the recent post on this topic.
The next post on this topic is expected week commencing 06/01/14.