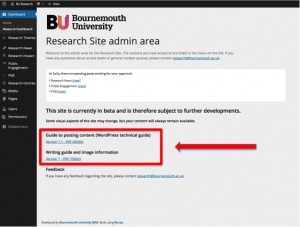 As promised, we have published two supporting documents to the new research website admin area. You can access this by logging into the site here with your usual BU username and password.
The first document is a technical guide, written by Matt Northam, which takes you through the process of uploading content to the main sections of the website and research centre pages. It provides a step by step explanation of what to do, as well as screen shots to give a visual aid.
The second provides guidance on writing style and image use. This is written by Mike O'Sullivan and me (Sally Gates). It provides stylistic suggestions, such as whether to write in the first person or third person. This document also provides information about how you can obtain images to accompany your content.
If you have a question that we haven't covered here, please contact research@bournemouth.ac.uk. If it is likely to be a common question we'll add it to the guide.
And lastly, a quick 'save the date'… We have just booked two more web training sessions in Studland House, Lansdowne Campus on Friday 7 February 2014  10-11:30am and 12-1:30pm (bring sandwich for that one)! We will set up an Eventbrite page for you to book and will post the link on the blog later this week.