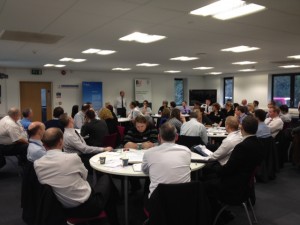 Last week the five police forces across the South West Region started a partnership with Bournemouth University to develop a cyber-crime strategy.  The Bournemouth University Cyber Security Unit (BUCSU) arranged a 3-day conference to assist our Police in creating a collaborative framework. Moreover, this conference has helped build a future implementation of a critical strategy which addresses the increasing threat of cyber-crime to our society. 
A series of workshops were developed by BUCSU and attended by representatives from Avon and Somerset, Devon and Cornwall, Dorset, Gloucestershire and Wiltshire police forces.  Those who attended included Police and Crime Commissioners (PCCs); Chief Constables, police officers and practitioners involved in the investigation of cyber-crime.
The conference provided insight to the problems faced by the police with this global threat and has contributed towards creating a sustainable programme that could be implemented across the region and aid police officers in their pursuit of the 4 P's of CONTEST (Pursue, Protect, Prevent, Prepare).
Dorset Assistant Chief Constable David Lewis said, "The purpose of the event was to find innovative approaches to combat the growing threat of cyber-crime in all its forms, from frauds and bullying to threats to our national and economic infrastructure.  We are building excellent relationships with the subject matter experts at Bournemouth University, their students and businesses in order to better protect our communities and bring those responsible for cyber-crime to justice".
If you would like to find out more about the BU Cyber Security Unit and what it offers please contact Lucy Rossiter.   The Technology Strategy Board (TSB) are offering up to £5000 funded support through the cyber security innovation voucher scheme.  The vouchers will help SMEs, entrepreneurs and early stage start-ups who see value in protecting and growing their online business by having effective cyber security. For further information please visit the TSB website to find out how innovation vouchers can help you.