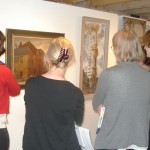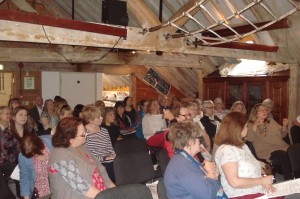 BUDI were delighted to welcome colleagues from the Museum of Modern Art (MoMA) in New York to Bournemouth University from 20-23rd May 2014, thanks to Fusion Investment Fund Mobility Strand Funding. Our local partnership working was put into practice to host international workshop leaders attended by participants near and far. MoMA's specially trained Museum Educators ran two workshops in which they shared their successful model and established approach for making their services dementia-friendly (validated via evaluation from New York University). These workshops showcased their innovative style of education delivery, and provided attendees with an opportunity to hear the success of their approach and view a practical demonstration in a gallery or museum space.
 On 21st May 2014, 15 members of BU Staff and PhD Students took part in a free workshop at Talbot Campus and in the Atrium Art Gallery. This was followed on the 22nd May 2014 with a second workshop at Poole Museum which was attended by 40 participants currently working in museums, art galleries and the wider heritage sector, from as near as Poole and as far as Paris. During this workshop participants learnt how they could implement these approaches within their individual organisations. Participant's fed back how useful they found the workshop:
It was a really good insight into what it's like to provide for people with dementia. It was great to spend time looking at the paintings in the museum in a new way.
I will adopt my art gallery sessions to follow many of MoMA's techniques.
I found the workshop both enjoyable and constructive and hope BUDI will run others on related topics.
Very well facilitated, clear well structured presentations. Very useful for my professional work.
We look forward to seeing how the participant's learning translates into their future practice, and the wider impact of this approach within museums, art galleries and the heritage sector in the UK. We would also like to thank Poole Museum for kindly providing the venue and refreshments for the second workshop.
Michelle Heward