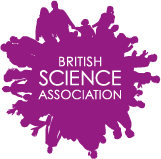 As R&KEO's new Public Engagement Officer I have taken a week to travel up to my hometown of Birmingham and visit this years British Science Festival to get some inspiration for ways to tell the public all about the amazing research our academics are getting up to at BU.
So far this weekend I've heard from two of the most celebrated female science communicators Alice Roberts (Professor of public engagement at the University go Birmingham and star of multiple television programmes) and Maggie Aderin-Pocock (star of BBC programmes such as "Do we really need the moon?"). I've also heard about the biology of dinosaurs, finally learnt the answers to my burning questions about how they did the special effects in the original Star Wars (with difficulty it would seem!), and learnt why improbable occurrences, such as this poor guy being struck by lightening twice in a row, can and do happen!
My favourite event so far though would have to be Science Show Off. The great news is this is an event that happens regularly in different parts of the country, and if you fancy yourself a comic genius you can go and take part! Academics and students are given 9 minutes to get up and talk about whatever they like. Yesterday's 2 hour show taught me how Galileo and his pals were wrong in there assumption that the square root of 2 could've expressed as a fraction, why I should give up drinking to upgrade my DNA (probably not going to happen), that spiders really just need a rebrand, and what a particle physicist does and why! All of these short snappy sessions were delivered in a comedic style making it a highly informative yet humorous evening to attend.
If you think you secretly missed your calling as a stand up comedian then take a look at their website which let's you see what gigs they have coming up and sign up to perform your set – no questions asked!
If in fact you think this is something you'd like to do here in Bournemouth send me an email and I will take a look at slipping our own version into one of our own public engagement projects.