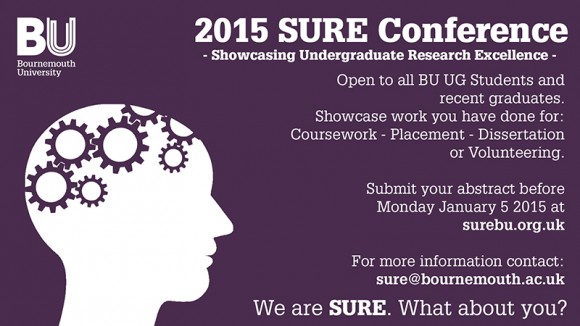 SUREBU is a Fusion funded project aimed at showcasing the best of BU's undergraduate research.  Research is broadly defined and could include work towards an undergraduate essay or dissertation, work carried out as part of a volunteer or work placement, or activities for an academic society.  Not only are research skills a central part of undergraduate study and academic life, but they are also vital skills for any future career.  By encouraging undergraduate students to think critically and develop their skills, research will help to enhance their student experience and increase their employability upon graduation.
The call for submissions is now open, and all BU undergraduate students – from all schools and courses – are eligible to apply.  Examples of research could be anything from preparing for a dissertation or an essay to work carried out during a placement year to volunteering or work with academic societies.   The main criteria is that evidence of the student's own critical thinking can be demonstrated.  As well as developing new skills, this is a good opportunity to enhance their CVs through a conference presentation, publication of abstract or even being the winner of awards and prizes.
To get involved, register on SUREBU's website and submit an abstract.  Abstracts should be a maximum of 300 words, with a title no longer than 150 characters.  The deadline for submission is 5th January 2015.  If you know of a student or recent graduate who would be eligible to submit, do encourage them to apply!