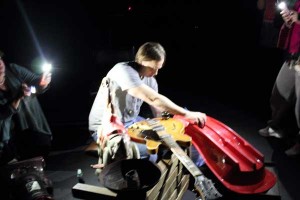 We would like to invite you to the next research seminar of the Creative Technology Research Centre.
Speaker: Bill Thompson (Video & Sound Artist, Lecturer in Music and Audio Technology, Bournemouth University)
Title: Transdisciplinary Arts Practice: Moving Sideways to Move Forward
Time: 2:00PM-3:00PM
Date: Wednesday 14th January 2015
Room: P335, Poole House, Talbot Campus
Abstract:
I'll be discussing recent collaborative work with choreographer Ian Spink involving transdiciplinary practice across several projects in Scotland, as well as past work with choreographer Claire Pencak and archaeologists Antonia Thomas and Dan Lee at the Ness of Brodgar site in Orkney. I'll also discuss  some of my work with / against technology in my solo and sound art practice as well my experience leading collaborative arts practice workshops with Ian Spink ( fast + Dirty ) and individually ( Fail Again, Fail Better ) at Guildhall School of Music and Drama and elsewhere.
We hope to see you there.