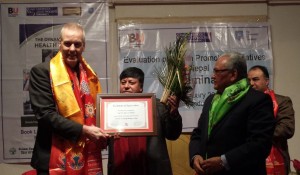 BU Professor Edwin van Teijlingen was honoured by the Minister of Foreign Affairs Mr. Mahendra Bahadur Pandey yesterday in Kathmandu.  Prof. van Teijlingen was honoured for "his contributions to capacity building and health research in Nepal."  In the presentation listing his achievements of over ten-years of research in Nepal it was highl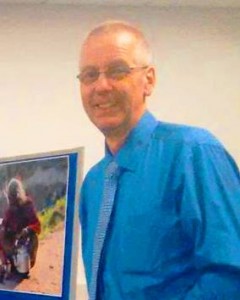 ighted  that he has supervised eight Nepalese PhD students to completion in the UK as well as numerous MSc students from Nepal.  Several of his former student attended the ceremony.  Furthermore, Prof. van Teijlingen's work include over 75 academic  publications on Nepal and/or papers published in English-language journals in Nepal.
Prof. van Teijlingen is currently Visiting Professor at two higher education institutions in Nepal.  He has been Visiting Professor since 2009 at Manmohan Memorial Institute of Health Sciences, affiliated with Tribhuvan University, and Visiting Professor since 2012 at Nobel College, affiliated with Pokhara University.  He is also on the editorial board of several health journals in Nepal, including the Nepal Journal of Epidemiology and Health Prospect.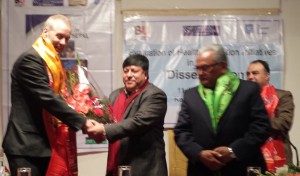 Most recently he was co-editor of an edited volume under the title The Dynamics of Health in Nepal published for Social Science Baha by Himal Books in Kathmandu.  His fellow editors Prof. Padam Simkhada (Liverpool John Moores University) and Dr. Sharada Prasad Wasti were also present in the audience.
Edwin van Teijlingen is Professor of Reproductive Health Research in the Faculty of Health & Social Sciences and Director of the Centre for Midwifery, Maternal and Perinatal Health.