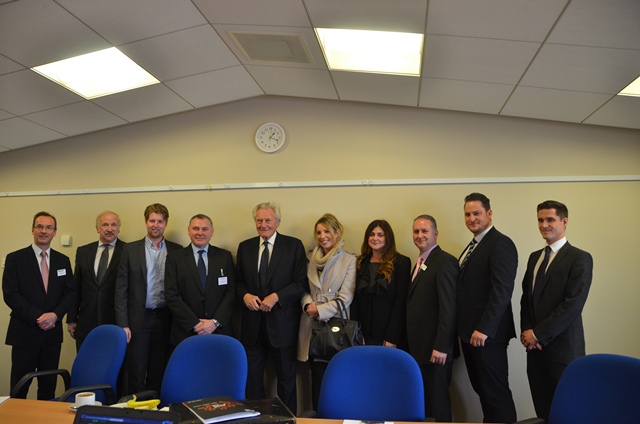 Mark Painter, Centre for Entrepreneurship Manager, was invited to join a meeting with former Deputy Prime Minister Lord Heseltine to talk about the progress of the Dorset Growth Hub.
Lord Heseltine was President of the Board of Trade and then John Major's deputy PM in the 1990s. In 2012, he authored a report, 'No Stone Unturned', which advocated devolving more power to the English regions and setting up a single local growth fund. Most of its recommendations were accepted by the government.
The Dorset Growth Hub launched in April 2014 and offers a range of free business support and signposting to companies at various stages of growth. The Growth Hub has helped create 190 jobs in Dorset in its first 10 months.
Mark Painter has acted as the first point of contact at BU for the Growth Hub team and is a member of their Steering Group. During the discussion, Lord Heseltine heard that partnership working with organisations such as Bournemouth University and the Dorset Chamber of Commerce and Industry were the key to wider business engagement. Mark Painter said, 'I was delighted to have been invited to meet with Lord Heseltine and talk about the valuable role BU has played in supporting the Growth Hub and entrepreneurs and businesses across the region'. Mark continues, 'The Dorset Growth Hub is considered a national exemplar and I look forward to continuing to help the Hub provide vital advice and support to local growing businesses.'
For more information about the activities of the Dorset Growth Hub contact Mark Painter at the Centre for Entrepreneurship on 01202 963547.